Bangladeshi most popular actress Shobnom Bubly popularly known as Bubly posted her two pictures on her verified Facebook Page. Netizens think Bubly is 100% pregnant after seeing the pictures. Many also claimed that provably she is pregnant we can see her Baby Bump in one picture from the two.
The actress posted the pictures on Tuesday, September 27, 2022, through her Facebook Verified Facebook Page. But, Bubly not even mentioned when she took these pictures. But, it is assumed that these pictures were taken a few years ago. Because she is not working on a new film named "Chadar" directed by Jakir Hossain Raju. Bubly looked normal in the shooting spot while acting in the movie.
In addition, Bubly posted the pictures with the caption "I am with my life". She also added a hashtag to her post "Throwback America". It is assumed from the hashtag that, these two pictures were taken in 2020 when she was in America.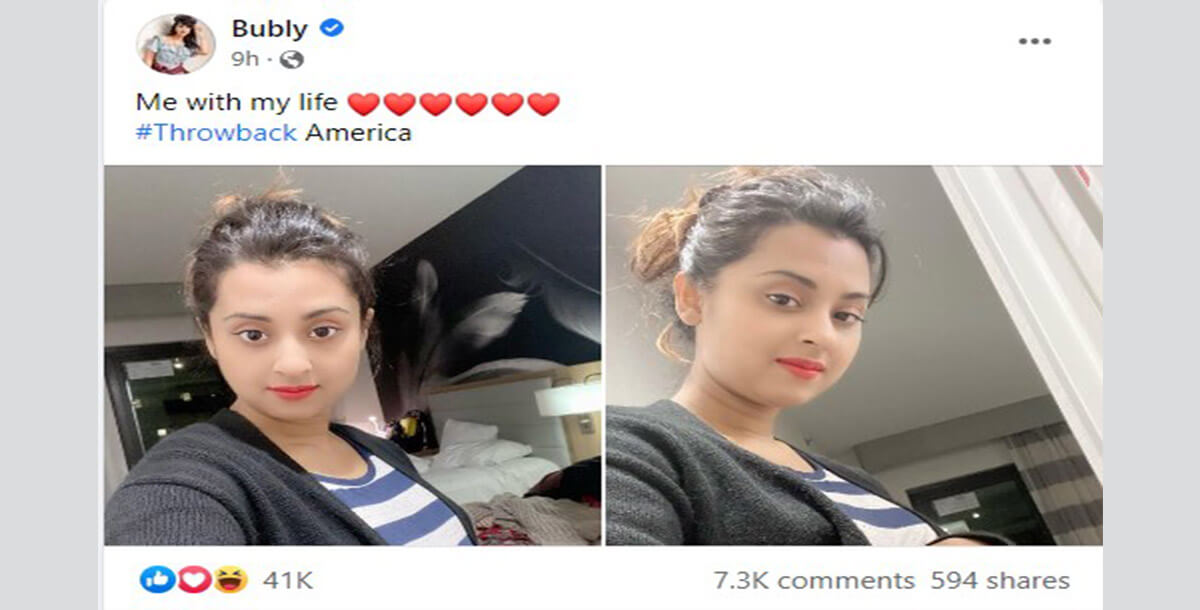 Netizens are asking about her pictures; someone is saying that Bubly's Baby Bump is visible in public, she is pregnant? One of her fans comment on her post; 100% Pregnant. Another fan wrote, seems to be pregnant more likely.
Earlier, serveral rumors comes on trending several times regarding her pregnancy. But, Bubly denied these rumors. On the other hand, another rumor "Shakib Khan going to become the father of Bubly's Baby" spread on social media.
Actress Shobnom Bubly debuted in Bangladeshi Movie "Bossgiri" in 2016 where Shakib Khan was in the opposite role. Bubly gained huge popularity by acting in 9 consecutive films with Shakib Khan.