National University has published the notice regarding Honours Admission 2022 for the session 2021-2022. The online application will start on May 22, 2022, through the NU Admission Portal.
The Nation University (NU) published the admission notice for those students who passed on HSC Exam with the minimum GPA. The students who appeared in the HSC Exam from 2019 to 2021 and passed on the exam, can submit the online application for NU Honours Admission. Lakh of candidates are eagerly waiting for the notice so that they can submit their applications.
Honours Admission 2022: Date and Time
Generally, every year the National University declared the admission notice after the HSC Result. This year, HSC Result was published on February 13, 2022, and it has been reached two months and 15 days. Interestingly, the admission notice has been published today April 28, 2022, through a press release.
As per NU Press Release, this year's Honours Admission 2022 going to start on May 22, 2022. Interested and eligible candidates can submit the online application through nu.ac.bd/admission and the online application will end on June 9, 2022. Candidates have to pay 250 Taka for the application fee and submit the necessary documents to the college where they want to admit.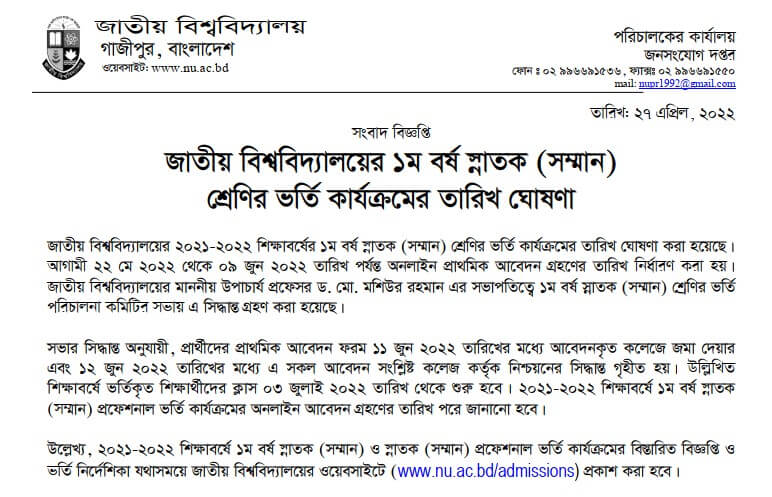 For Latest News Updates, Please Follow OgroNews.Com on Google News Channel
(The above news first appeared on Ogro News on April 28, 2022, at 04:29 PM BST – Bangladesh Standard Time. For more news on Education, Technology, Entertainment, Sports, Festivals, Celebrities, Lifestyle, and Trending News, so bookmark our news portal OgroNews.com. Also, like our official Facebook Page, and Follow us on Twitter at @ogronewsbd).