NTRCA Merit List 2021 PDF: 1-16th Combined National Merit List Published. NTRCA (Non-Government Teachers Registration and Certification Authority) Authority has been published the list through ngi teletalk server. Now, candidates of 1-16th NTRCA can check the list from there.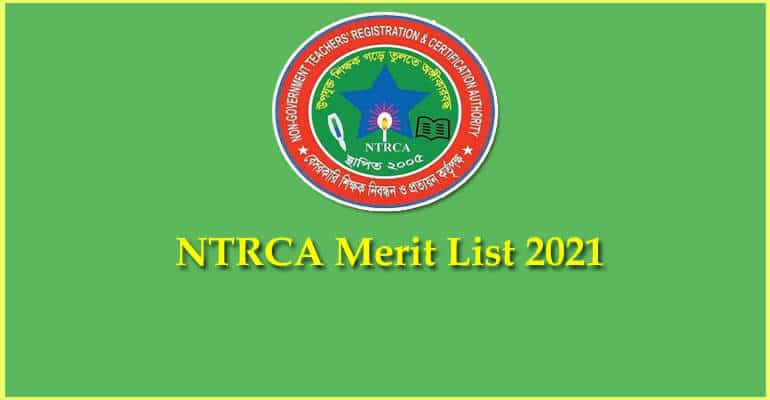 This is breaking news for those people who are candidates of 1-16th NTRCA. Because Non-Government Teachers Registration and Certification Authority – NTRCA Authority has published Combined Merit List. The authority published it on Tuesday, 2nd November 2021. So, all the candidates searching for NTRCA Merit List 2021 who appeared on 1st-16th NTRCA Exam.
NTRCA Merit List 2021 Published!
NTRCA or Non-Government Teachers Registration and Certification Authority (Bengali; বেসরকারি শিক্ষক নিবন্ধন ও প্রত্যয়ন কর্তৃপক্ষ) is the most important part under the Ministry of Education. They are responsible for the registration and certification of teachers in private educational institutes under the government MPO (monthly pay order).
On Tuesday, 2nd November 2021, the authority has been published the NTRCA Merit List 2021 of 1-16th NTRCA. Before that, they also succeed to complete the 16th NTRCA a few days ago by publishing the final result of the 16th NTRCA Exam. That's why all the candidates need to know the Combined National Merit List.
1-16th NTRCA Combined National Merit List 2021
Teacher Registration Examination is conducted by NTRCA and Candidates from all over the country appear for the examination simultaneously. In the first step, candidates need to pass on MCQ Exam, after that written and then viva exam. At the end of the three-step test, all the marks are put together and sorted by merit.
In this case, the highest mark in the Combined Merit List of candidates who have passed from the 1st to 16th NTRCA Exam. Here all the candidates are sorted according to their marks.
NTRCA Merit List 2021 PDF: How to check online
NTRCA Combined Merit List Originally provided through 1st to 16th NTRCA. Now, candidates have to collect the National Merit List Result from the official website. The full process includes here for checking the Merit List Result.
Step 01: Firstly, you will need to visit the official web server of Non-Government Teachers' Registration and Certification Authority. For this time, ngi.teletalk.com is the web server that will proivde you the merit list.
Step 02: Now, open a new tab on your Internet Browser. Then copy the ngi.teletalk.com.bd URL and paste into the address bar to enter there. After that, simply tap on Go button to enter the website directly.
Step 03: Once you successfully enter on the NTRCA Web Server, you will automatically redirect to a new webpage. Just find out "Combined National Merit List" and simply tap on there.
Step 04: You will redirect to a new page which will ask you about "NTRCA Level" of School Madrasah, School-2/Madrasah/Technial, College/Madrash/BM.
05: Simply tap on Level, after that a new menu will required to choose subject.
Step 06: Then, tap on choose subject and select your subject. A list will appear in your screen and it will show Merit List, Subject Name, Roll Number and more.
Step 07: Finally, type the roll number into the box that is available in the right corner.
For Latest News Updates, Please Follow OgroNews.Com on Google News Channel
(The above story first appeared on OgroNews.Com on 3rd November 2021, at 12:50 PM BST – Bangladesh Standard Time. For more news on Education, Technology, Entertainment, Sports, Festivals, Celebrities, Lifestyle, and Trending News, so bookmark our news portal OgroNews.com. Also, like our official Facebook Page, and Follow us on Twitter at @ogronews21).