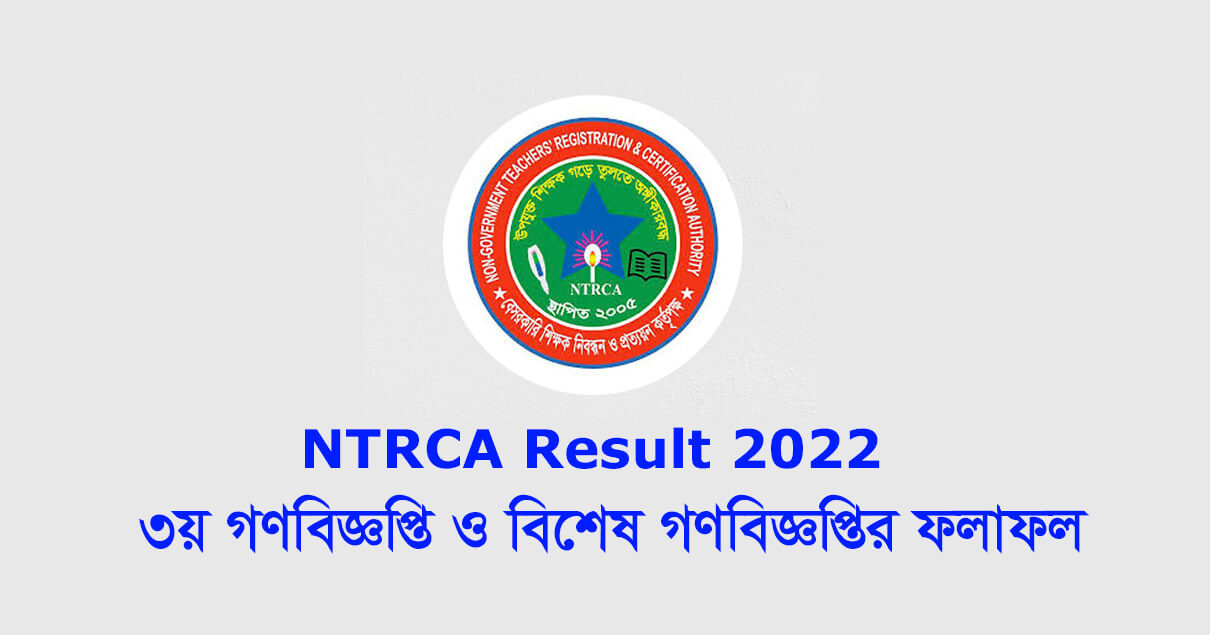 Non-Government Teachers' Registration & Certification Authority has published NTRCA Result 2022 for the 3rd Cycle and Special 3rd Cycle to recruit 15 thousand teachers in the Non-Govt Schools, Colleges, and Madrasah.
As per the official press release published today, it has been recommended to recruit 11 thousand and 769 teachers for the vacant posts in various private educational institutions in the country. The results have been published today from the special public notification and the waiting list for the 3rd public notification. Now, all the candidates can collect NTRCA Results for the 1st to 17th NTRCA.
NTRCA Result 2022 for Special and 3rd Public Notice
NTRCA Authority declared that they are going to publish the result on June 5, 2022, for 15 thousand teachers in Non-Govt schools, Colleges, and Madrasahs. as per this, the result has been published today June 5, 2022, at 11:50 AM. Education Minister Dipu Moni released the result at the press conference.
About 11 thousand and 769 candidates have been recommended according to the NTRCA Result 2022. The result has been published from a special public notification and the waiting list from 3rd public notification.
According to the result, a total of 15 thousand and 163 candidates under NTRCA Special Public Notice 2022 and 3,081 candidates selected who have not joined after the recruitment recommendation under the 3rd Public Notification.
A special public notification was issued on February 8, 2022, to recruit 15,163 teachers for those candidates who haven't applied on the 3rd Public Notification. Then, 3 lakh 43 thousand 408 applications were received until the application deadline.
Steps to check NTRCA Result 2022
NTRCA always published the result through their official web server mostly on ntrca.gov.bd. Besides this, they also use Teletalk Software to release the result.
In order to check the result, candidates must follow the step by step instructions below;
First of all, you will need to open "ntrca.gov.bd" from your internet browser.
Once the main page is displayed on your screen, find out the recent notice from the menu.
Simply click on "All Notice" from the menu.
Click on the "NTRCA Result 2022" notice from there.
Tap on the "Download" button to save the file on your phone.
Finally, open the pdf file on your phone and search for your roll number.
Alternative Process
Visit the Teletalk Server of NTRCA: ntrca.teletalk.com.bd or ngi.teletalk.com.bd
Click on "3rd Cycle 2nd Phase or 3rd Cycle Special Notice"
After that, click on "e-Result". Then you will redirect to a new page.
Similarly, click on "Public View" from the menu.
Chose Institutes of Districts, and select your division.
Select your district
Type your result in the right corner.
Finally, your result will be displayed on your screen.
For Latest News Updates, Please Follow "Ogro News" on Google News Channel
(The above news first appeared on Ogro News on June 5, 2022, at 01:35 PM BST – Bangladesh Standard Time. For more news on Education, Technology, Entertainment, Sports, Festivals, Celebrities, Lifestyle, and Trending News, so bookmark our news portal OgroNews.com. Also, like our official Facebook Page, and Follow us on Twitter at @ogronewsbd).