Sheikh Rasel Quiz Result 2022: The Result of the Online Quiz Competition, Sheikh Russel Quiz 2022 has been published today, October 18, 2022 (Tuesday). Contestant name, address, and obtained marks on the competition announced on the official portal at https://sheikhrussel.gov.bd/quiz-en.html quiz.sheikhrussel.gov.bd. Now, the result can be checked from the mentioned websites.[adinserter block="1″]
Sheikh Rasel Quiz Result 2022 Out
The selection committee officially published the result of the Sheikh Rasel Quiz for A and B Group. The online quiz competition of A Group was held on September 30, and B Group on October 1, 2022. In the result published on Tuesday, October 18, 2022, on Sheikh Russel Day, it is said that 10 contestants has selected as the winners of this year's quiz.[adinserter block="2″]
The number of participants breaks the last year's record. The Technical Team of Sheikh Russel Quiz confirmed to OgroNews that, the result was automatically generated using the software we made. Later, we finalized the winner's name through the lottery system. Each Winner of A and B Group will get a Core i7 (11th Gen) Laptop as the prize, they added.[adinserter block="3″]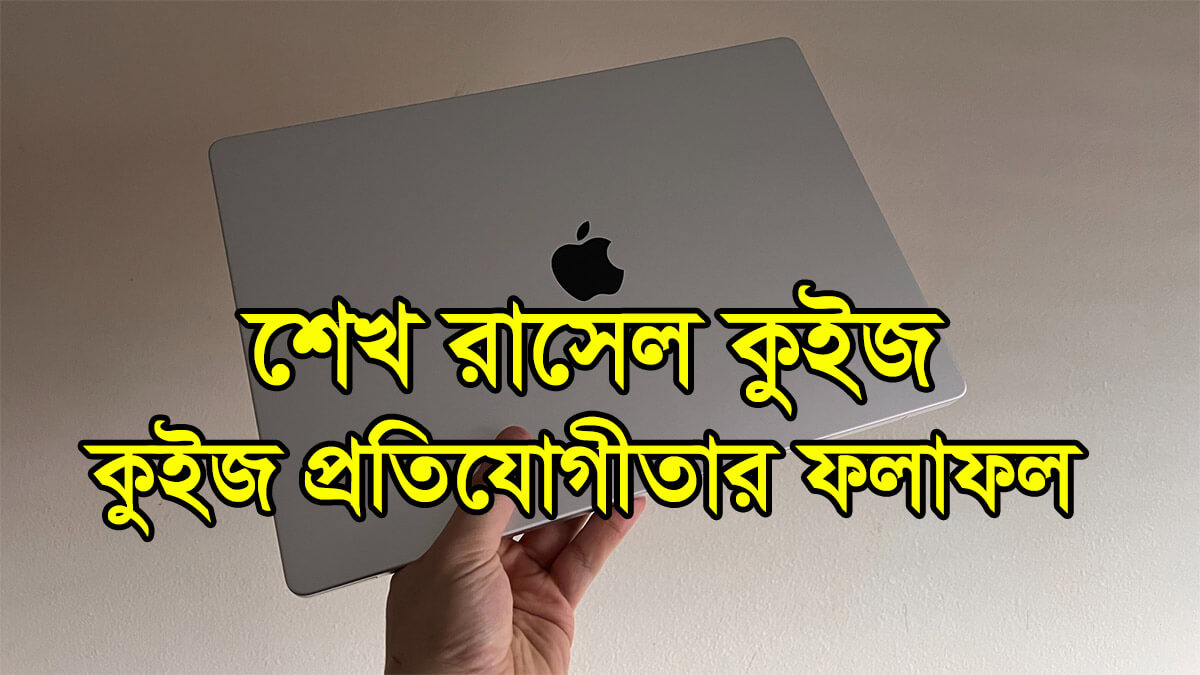 Sheikh Russel Quiz Winners Selection Criteria
According to the announcement, the Syllabus for Quiz Questions was declared on the portal at quiz.sheikhrussel.gov.bd. The question was made from Sheikh Russel's life, such as when and where he birth, his childhood, education life, sports and more.[adinserter block="4″]
The Competition was held as MCQ Exam. There were 100 MCQs where 4 options were added for each question. The contestants who successfully answered the maximum number of questions within a short time will be separated to place in the winner's list as per the selection criteria. Then, a lottery system will be run using the "Spin" software to generate Sheik Rasel Quiz Result. The contestant's name appears on the spin, they will be selected as a winner, said the organizer.[adinserter block="1″]
After completing the task, a total of 5 winners for Group A, and 5 for Group B has announced as the winners of the Sheikh Russel Quiz 2022.[adinserter block="2″]
Quiz Certificate
The government declared that every contestant who take the part in the Sheik Russel Online Quiz will get the certificate. The contestant will be able to collect the certificate from October 5 to October 30, 2022.
Note that, only those who participated in the quiz will get the certificate.
Sheikh Rasel Quiz Result 2022 Group A & B: Know how to collect
The Quiz Organizer Confirmed to OgroNews, the winner list of the competition has been published on Sheikh Russel Day, October 18, 2022. Later, Sheikh Rasel Quiz 2022 Result has shared online including the official website sheikhrussel.gov.bd, ICT Division, DoICT and Human Development Media's Facebook Page.
In order to view Sheikh Rasel Quiz Result and Download the Certificate, contestants can follow the step-by-step instructions given below;
Step 1: Visit the official portal sheikhrussel.gov.bd or quiz.sheikhrussel.gov.bd
Step 2: Once reached the main page, Click on the "Sheikh Rasel Quiz Result Group A or B" Link.
Step 3: After clicking there, a login page will appear.
Step 4: Type the "Email ID or Phone Number" that you used while registering.
Step 5: Write the correct password in the exact field.
Step 6: Click on the "Sign in" button from the page.
Step 7: Your Profile will appear. From there, you can get the result.
Step 8: Save the result page or take a printout to use it later.
For Latest News Updates, Please Follow "Ogro News" on Google News Channel