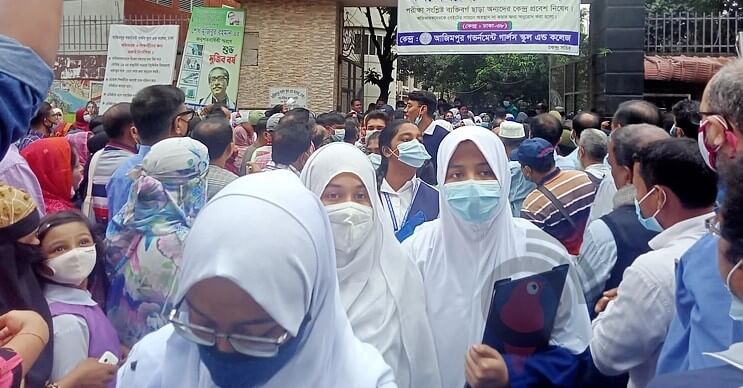 As per the schedule, today was the 2nd day of SSC Exam 2021. On this day, Student absenteeism breaks the previous day's record. Almost 3,500 examinees were absent on the first day of the SSC Exam from the Science Group under the General Education Board.
On the second day (15th November 2021, Monday) that number exceeded 16 thousand. Two candidates of Barisal and Comilla Boards were expelled on the same exam. But, yesterday 14 candidates were expelled.
SSC Exam 2021 2nd Day Overview
In Rajshahi Education Board, a total of 1 lakh 2 thousand 256 out of 1 lakh 4 thousand 21 students were present in 26 SSC Exam Centers. The number of absent candidates is 1 thousand 6 from this Education Board.
About 54,641 candidates were present out of 58,306 students in 204 centers of the Chittagong Education Board. The number of absent candidates is 1,056.
Also Read: SSC Result 2021 within 30 Days
Out of 56,120 examinees, 55,006 SSC Examinees were present in 16 exam centers of the Barisal Education Board. A total of 1 thousand and 342 examinees were absent from Barisal Education Board.
For Latest News Updates, Please Follow OgroNews.Com on Google News Channel

(The above story first appeared on OgroNews.Com on 15th November 2021, at 10:15 PM BST – Bangladesh Standard Time. For more news on Education, Technology, Entertainment, Sports, Festivals, Celebrities, Lifestyle, and Trending News, so bookmark our news portal OgroNews.com. Also, like our official Facebook Page, and Follow us on Twitter at @ogronewsbd).