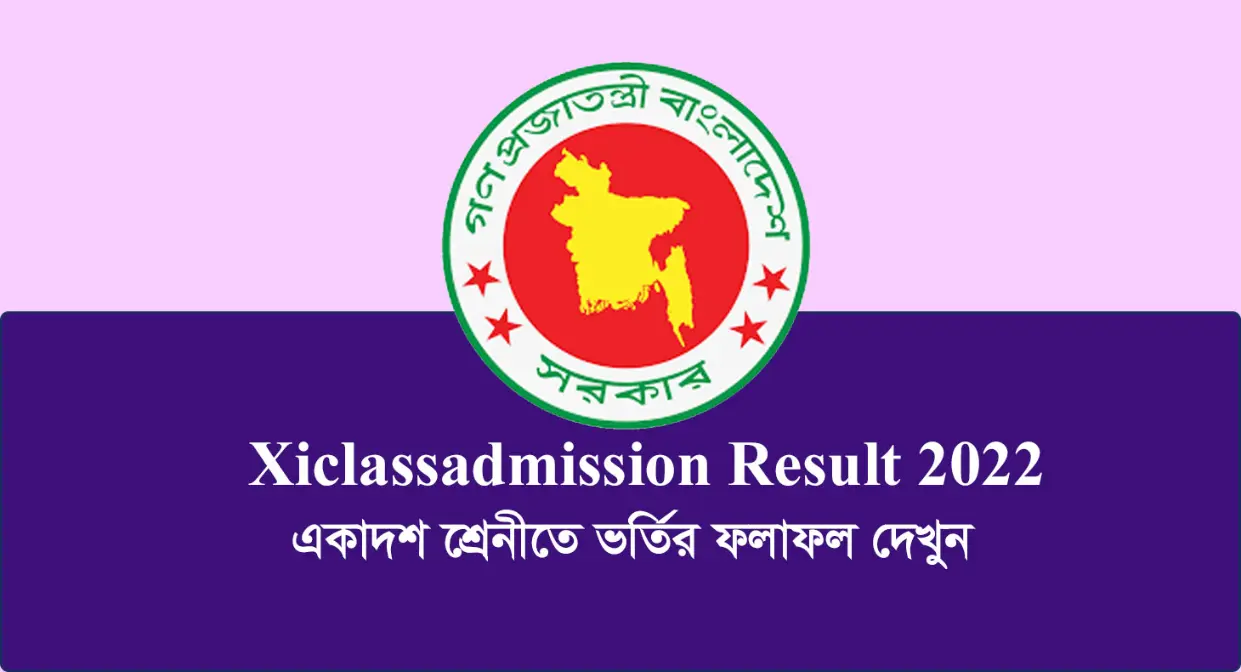 Xiclassadmission Result 2022: Higher Secondary Certificate HSC Admission Result going to be published today through the official website. All the applicants can check their admission results by their roll number.
The online application procedure for HSC Admission was started on January 8, 2022, which is also called College Admission. Xiclassadmission is the main website that is always active to receive applications from interested students. The online application was ended on January 17, 2022, across the country. Now, candidates can check the Xi Class Admission result by their roll number.
Xiclassadmission Result 2022: When will published the result
Every year HSC/College/Xi Class Admission process started after 5 or 7 days of the SSC Exam Result. Apart from this, the application process was started on January 7, 2022, for HSC Admission 2022. The online application and fee payment's last date was January 17, 2022.
The Xiclassadmission authority declared that the 1st merit result will be published on January 29, 2022 (Today). As per the notice, the 1st merit result going to be published today. Applicants can check their admission results from the official website. For this, they need to input the admission roll number.
It is also said that the selected applicants need to pay the registration fee within February 6, 2022, to confirm their admission. If the applicants do not pay the fee, their application will be canceled automatically.
Steps to check Xiclassadmission Result
In order to check Xi Class Admission Result/HSC College Admission Result, applicants need to submit their admission roll number to the official website.
You will easily be able to collect your admission result by applying the mentioned steps.
Step 1: Firstly, you will need to open the official web address of Xi Class Admission. To do this, you have to open xiclassadmission.gov.bd from your PC, Android or Tablet.
Step 2: Now, just open a new tap from your favorite internet browser app. Then copy the above web URL (xiclassadmission.gov.bd) and paste into the address bar of the internet browser.
Step 3: Once, you tap on Go icon from the keyboard, you will redirect to the main page of HSC Admission Portal (Xi Class). The home page will be appeared on your screen within a few seconds if there is no issue.
Step 4: Then, you have to find out the recent notice regarding Xi Class Admission Result 2022. To do that, you have to scroll down the page.
Step 5: Now, you have to click on check result button that is available on the page.
Step 6: After that, you will need to input admission roll number and other information into the desired box. Then, the result will appear on your phone screen.
That's was the best procedure to collect the result. If the official website slows down, candidates are advised not to worry and try again after some time. The web server can be down due to heavy load after publishing the result.
Check Xi Class Admission Result 2022 By SMS
If the webserver does not respond after publishing the result, so a lot of students will be worried about their result. But, the students can check their admission results by Mobile SMS.
For this, they need to write an SMS and need to send it to the official number.
For Latest News Updates, Please Follow OgroNews.Com on Google News Channel
(The above news first appeared on Ogro News on January 29, 2022, at 12:45 PM BST – Bangladesh Standard Time. For more news on Education, Technology, Entertainment, Sports, Festivals, Celebrities, Lifestyle, and Trending News, so bookmark our news portal OgroNews.com. Also, like our official Facebook Page, and Follow us on Twitter at @ogronewsbd).