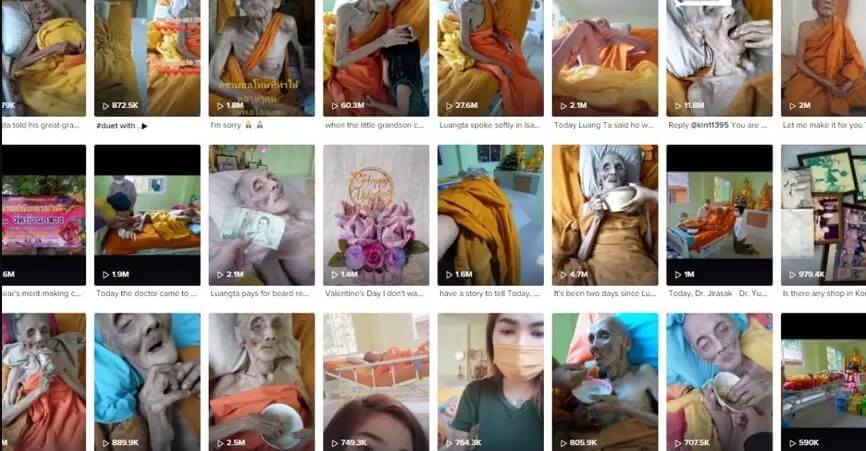 163 Years Old Man: In February 2022, a video of a very old patient receiving care at a hospital. The video went viral and was widely shared on social media with a lot of jokes, memes, and suppositions about his age.
Recently, a video went viral on various social media, especially on TikTok, Facebook. The video shows that, a 163 Years Old Man who is a monk practicing Sokushinbutsu. Before that, a picture was viral on Facebook and millions of Bangladeshi people shared it. But, now, a video went viral which was originally posted on TikTok.
163 Years Old Man
In February 2022, a video showing a 163-year-old man was extensively shared on most popular social media. As the video went viral on the internet, there are huge people who claimed that the old man was a monk. They claimed that he was practicing Sokushinbutsu which means self-mummification.
But, as per our research, this video does not show a 163 Year Old Man or does not he practicing Sokushinbutsu. This viral video shows an old man, his name is Luang Pho Yai, and his age is around 109 years.
This viral video was originally uploaded on TikTok by @auyary13. The user also refers to herself as his granddaughter. As per the recent research, @auyary13 has uploaded almost dozens of videos of him.
The earlier videos (about November 2021) show him at home. But, later in January 2022, he was brought to a hospital in Thailand named Dan Khun Thot hospital after breaking a hip bone. Her (@auyary13) video has been viewed by millions of people as she keeps her fans updated about his grand grandfather's health. "Sangay Chophel" asked her regarding this age. And she replied that he is 109 years old.
As her (@auyary13) videos went viral on TikTok, Facebook, a lot of people shared these video clips along with jokes, memes about this person's age. For this, Auyary13 replied to one fans's comment referring to him as a corpse, writing [translated using Google Translator and edited for clarity]:
[He is] not a corpse .. Let's have some respect for Luang Ta. If you don't like it, please scroll past and don't comment anything like this 🥺"
However, this person does truly appear to be a monk, but we haven't found any original information to varify that, he was practicing Sokushinbutsu.
Point to be noted that, earlier (Provably, November 2021) this man's picture went viral on Facebook that claims 163 Years Old Man who is a monk practicing Sokushinbutsu. It was a viral picture and shared by lakhs of Indian and Bangladeshi people. Currently, it has been circulated with video clips.
However, it has been learnt that, Auyary13' grandfather has been improving. Her recen videos show that he's been able to eat, exercise, and visit with family.
For Latest News Updates, Please Follow OgroNews.Com on Google News Channel
(The above news first appeared on Ogro News on February 22, 2022, at 03:58 PM BST – Bangladesh Standard Time. For more news on Education, Technology, Entertainment, Sports, Festivals, Celebrities, Lifestyle, and Trending News, so bookmark our news portal OgroNews.com. Also, like our official Facebook Page, and Follow us on Twitter at @ogronewsbd).