JU C Unit Result 2022: The Admission Test Result of the C Unit Faculty of Arts and Humanities, Bangabandhu Faculty of Comparative Literature and Culture of Jahangirnagar University going to be published tonight. The result can be found on the official website for the session 2021-2022.
The result released time has been declared by Professor Mozzamel Haque, dean of the faculty. The Professor said this today, August 1, 2022, during a conversation with journalists at the Dean's office of the old Faculty of Arts and Humanities.
He also said that the process was almost at the end of last night. Later it was left unfinished as the night was too late. We hope that all the processes will be complete today and we will publish JU C Unit Result 2022 tonight on the official website.
The students who appeared in the Jahangirnagar University JU C Unit Admission Test for the session 2021-22 can check the result directly from the official website. For this, students have to submit their Roll or Registration Number into the admission portal.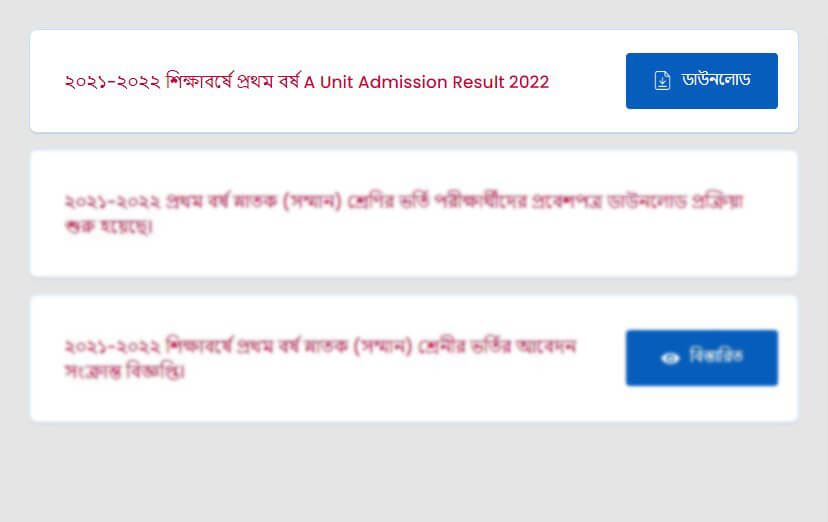 JU C Unit Result 2022: How to check
In order to check the Admission Test Result of C Unit, students must enter the official website of Jahangirnagar University.
For the convenience of the students, we have shared the step by step instructions given below;
First of all, you have to open a new tap from the internet browser. For this, simply tap on the plus (+) icon from the browser.
Then, type the official admission portal URL (https://juniv-admission.org/) into the address bar of the browser.
Once the main page of the portal appears on your screen, click on the JU C Unit Admission Result 2022 Link from the page.
Now, you will redirect to the next page.
Write Admission Roll or Mobile Number in the window.
Type the "Password" in the box and tap on the "Login" button.
The Admission Result will be visible on your screen.
Finally, take a screenshot or print the result page to use later.
This year, the Jahangirnagar Admission process started on May 18 for the session 2021-22. The online application ended on June 16, 2022. About 53 thousand and 430 candidates have submitted the application against 466 seats.
Yesterday (July 31, 2022), the JU C Unit Admission Test was taken from 09:00 AM to 04:15 PM. The test was conducted in five shifts. However, according to the Dean's office, 85% of the candidates participated in the admission test yesterday.
For Latest News Updates, Please Follow "Ogro News" on Google News Channel