SSC Result 2021 Marksheet with Number: Finally, the result has been published today officially by Education Board. As per the news, SSC and Equivalent Result has been published on December 30, 2021. Candidates can check their results by SMS and Online.
Bangladesh Education Board has been published the result today. In the meantime, this is Breaking News for those students who appeared in the SSC Exam-2021. In fact, if you searching online to know SSC Result 2021, How to check by SMS and Online, and more, then you have reached the right place.
SSC Result 2021: Official News Update
This year SSC and Equivalent Exam-2021 was taken place on delay instead of the regular date. The exam was take place on November 14 and continue till November 23, 2021. On December 28. Education Minister Dipu Moni declared that the result will be published on December 30, 2021, for the All Board. Generally, SSC Exam took place on the 1st week of February each year and the result was published after 60 days of the exam.
As per the news, SSC Result 2021 marksheet with number has been published today December 30, 2021, at 12:00 PM for the All Education Board. The examinee can collect their results through SMS and Online. Marksheet will be released a few hours later, said Education Board.
Update News: Result Published officially! Now examinee can collect the result from here.
SSC Result 2021 Marksheet with Number: How to collect easily
This year SSC and Equivalent were published after 37 days of the exam. In addition, the Education Minister said while visiting SSC Exam Center, we will publish the result within 30 days after the exam.
In order to check SSC Exam Results, candidates need to know their Roll and Registration Number. The roll and registration number are available on the admit card which is given by the institute. So, candidates have to open the admit card again then need to follow the process from here to collect SSC Exam Result 2021.
For this, candidates are advised to apply the mentioned methods;
Check SSC Exam Result 2021 Online by Eboardresult
First of all, you will have to open eboards official web page. For this, you will need to visit https://eboardresults.com/v2/home.
Now, open a tap of the internet browser. Then, write or copy and paste https://eboardresults.com/v2/home into the address bar of your internet browser.
Simply, tap on the "Enter Button" or "Go" icon from the keyboard. It will automatically redirect to the official web page of EboardResults.
Once you reached the home page, you have to choose "SSC/Dakhil/Equivalent" as the "Examination Name" first.
After that, select the exam year 2021 by clicking on the "Choose one" navigation.
Similarly, you will need to select your Education Board Name.
Now, simply select the result type "Individual" for a single result.
Once you click on there, a box will appear on your screen. Simply type your Roll Number which is available on the admit card. (Registration Number is optional)
Finally, type the 4 digit security code which is visible on the screen and tap on the "Get Result" button. This will provide your result within a few seconds.
For further use, you have to print or save the page by taking the screenshot.
Here is the direct link: https://eboardresults.com/v2/home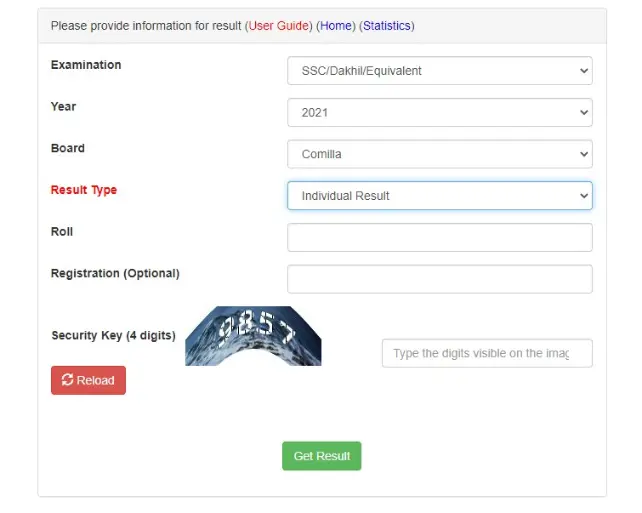 Note: Most of the time the official website will be slow or down due to the huge number of candidates trying to collect their results at the same time. Candidates are advised to try again after a few minutes. If anyone gets the error every time, so they can apply the Mobile SMS Method.
SSC Result 2021 By SMS
Every candidate can check the result using Mobile SMS Method which is powered by Teletalk. It will take 2.50+ Taka for this process. However, candidates need to send the right keywords to check SSC Result 2021 by SMS.
To do this, Android or iPhone users need to open the SMS app from their phone and need to type the following keywords.
SSC <Space> 1st Three Letters of Education Board <Space> Roll Number <Space> Exam Year
Example: SSC DIN 1240125 2021
Finally, candidates have to send the SMS to 16222. This is the official number that will provide the SSC Result by SMS.
Well, all board SMS keywords mentioned here below;
Exam Overview
According to the official report, SSC Exam was taken based on the short syllabus, and each exam duration was 1 hour and 30 minutes. Science candidates were advised to answer 2 out of 6 questions in the written part. In the MCQ part, they have to answer 12 questions out of 25.
About 22 lakhs of candidates appeared on SSC Exam which is 3 lakhs more candidates for SSC Exam-2020.
For Latest News Updates, Please Follow OgroNews.Com on Google News Channel
(The above story first appeared on OgroNews.Com on December 30, 2021, at 09:00 AM, Updated on December 30, 2021, at 01:02 PM BST – Bangladesh Standard Time. For more news on Education, Technology, Entertainment, Sports, Festivals, Celebrities, Lifestyle, and Trending News, so bookmark our news portal OgroNews.com. Also, like our official Facebook Page, and Follow us on Twitter at @ogronewsbd).