BOU MPH Routine 2021 Published, Exam will start on 1st October. Bangladesh Open University has been published BOU Routine 2021 for the 2nd Semester's term 211 of the Masters of Public Health Program. As per the routine, the exam going to start on 1st November 2021.
BOU MPH or Masters of Public Health Program under Bangladesh Open University, exam schedule has been published officially on their official website. Candidates can get it easily from there. However, here is the BOU MPH Routine 2021 for every candidate.
BOU MPH Routine 2021: Exam Date and Time
Bangladesh Open University's BOU MPH Exam Date was published on 12 September 2021 through their official website. As per the date, this year's Masters of Public Health Term 211, 2nd Semesters Exam going to start on 01 October 2021. Let's check the official date.
Name of the exam: Master of Public Health
Term: 211 and 202
Semester Name: 2nd and 3rd
Exam Start Date: 01 October 2021
Exam End Date: 29 October 2021
Organizer: BOU Edu BD
However, candidates can collect the exam routine from the official website. In the meantime, they can collect it from here too.
BOU MPH Term 211, 2nd Semester Routine
BOU MPH Term 202, 3rd Semester Routine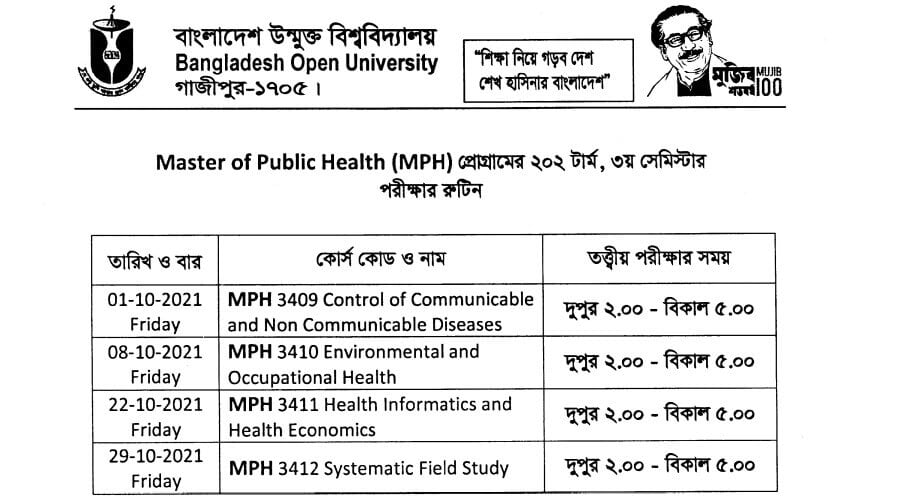 For Latest News Updates, Please Follow OgroNews.Com on Google News Channel
(The above story first appeared on OgroNews on 29 September 2021, at 10:40 PM BST (Bangladesh Standard time). For more news and updates on Education, Technology, Entertainment, Sports, Festivals, Celebrity News, Lifestyle, and Trending News, so bookmark our website OgroNews.com. Also, like our official Facebook Page, and Follow us on Twitter @ogronews21).