GST Admission Result 2021; A Unit Merit Result, Waiting List Published Online, Every candidate can collect their admission test result from the official website. According to the schedule, A Unit Admission Test took place on 17th October 2021.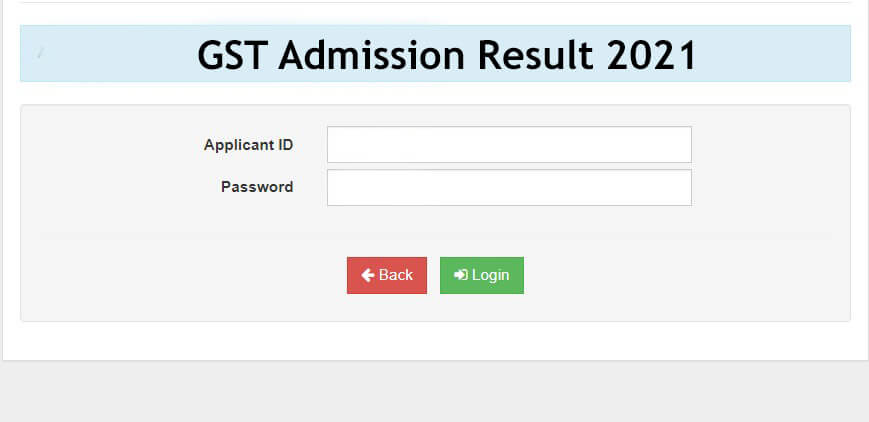 In 2021, GST Authority was conducted the Integrated 20 General, Science & Technology University Admission Test on 17th October 2021. In fact, they also declared the admission test result on 20th October 2021 that is three days after the test. That's why a lot of students eagerly waiting to collect GST Admission Result 2021 for A Unit.
GST Admission Result 2021 for Admission Test
GST or General, Science and Technology Admission – Integrated 20 University is called GST. This is the first time where the General, Science and Technology University completes the admission process with the integrated system. The first application started on 1st April this year.
| | |
| --- | --- |
| Event Name: | University Admission |
| Primary Application Date: | 1st April 2021 |
| Application End Date: | 15th April 2021 |
| Final Application End Date: | September |
| Admission Test Date | 17th October 2021 |
The candidates who are selected on Preliminary Process are eligible for the final application. According to the official notice, the final application ended in September. Besides this, GST succeed to conduct A Unit Admission Test on 17th October. The admission test was held at different centers across the country. Now, the candidates eagerly waiting for the admission test result.
Publish Date of GST Admission Result 2021
GST is the first integrated admission system in Bangladesh. They will follow their own patterns and no one can guess about that. But, GST Authority always declares anything using their official website. This can help everyone to get updated news regarding admission tests, admission result dates, and times.
According to the announcement, GST Admission Result 2021 has been published on 20th October 2021 through their official website. In the meantime, A Unit Merit Result and Waiting List are available on their server. Candidates can easily able to collect the admission test result from there. SMS method will also do the same role.
GST Admission Test Result 2021: How to collect
All of the candidates will be very happy after getting the result published date. Now, a lot of candidates will be looking for a method to collect it. Although, the method is pretty much easy and it will provide it within a few seconds.
First of all, you will have to enter the official website of General, Science and Technology (GST) Admission. So, gstadmission.ac.bd is the official website URL that will show you the result.
Now, open a new tap from your Internet Browser. After that, write or copy and paste the URL into the address bar and simply tap on "Go" button that is available on the Keyboard.
Once you tap on there, you will automatically redirect to the homepage of GST Admission Server. Now, you have to scroll down the page using the slider.
Now, find out the "Admission Test Result" menu that is available in the middle of thie homepage. Simply click on there, and it will also forward you to the next page.
When you reached the next page, you will have to write application id in the first box.
Similarly, type "Password" in the second box.
Finally, tap on "Login" button that is in green color. You will see your result once you tap on there.
Well, that was the best method for collecting GST results. If anyone applied the above method, then they will be able to collect their result within a few seconds. Moreover, candidates will get errors while loading this page due to the server loading issue. Don't worry about that, just try again after some time.
Also Read: DU Admission Result 2021
FAQs
May I check GST Admission Result 2021 By SMS?
Currently, GST Authority doesn't have this opportunity.
For Latest News Updates, Please Follow OgroNews.Com on Google News Channel
(The above story first appeared on OgroNews.Com on 21st October 2021, at 12:17 PM BST – Bangladesh Standard Time. For more news on Education, Technology, Entertainment, Sports, Festivals, Celebrities, Lifestyle, and Trending News, so bookmark our news portal OgroNews.com. Also, like our official Facebook Page, and Follow us on Twitter at @ogronews21).