Karmasangsthan Bank MCQ Result 2021: As per the official news, Kormo Songsthan Bank Result 2021 (কর্মসংস্থান ব্যাংক) has been published today, 22nd November 2021. So, every candidate can collect the exam result from the official website.
This year the Exam for Assistant Officer (General), Assistant Officer (Cash) under Karmasangsthan Bank was taken on 19th November 2021. The exam was taken based on MCQ Method which was started at 10:15 AM and ended at 11:15 AM in several centers across the country. Now, the candidates can check Kormo Songsthan Bank Exam Result easily.
Karmasangsthan Bank MCQ Result 2021
Karmasangsthan Bank (Employment Bank) or Kormo Songsthan (Bengali; কর্মসংস্থান ব্যাংক) is a specialized government-owned bank in Bangladesh. The bank was founded to finance the unemployed to set up small enterprises. The authority was succeed to take the MCQ Exam on 19th November 2021.
According to the report, Kormo Songsthan Bank Result 2021 has been published on 22nd November 2021. The notice was signed by Goutam Saha, General Manager of Karmasangsthan Bank. A total of 1076 candidates has been passed on the MCQ Exam that was taken on 19th November this year.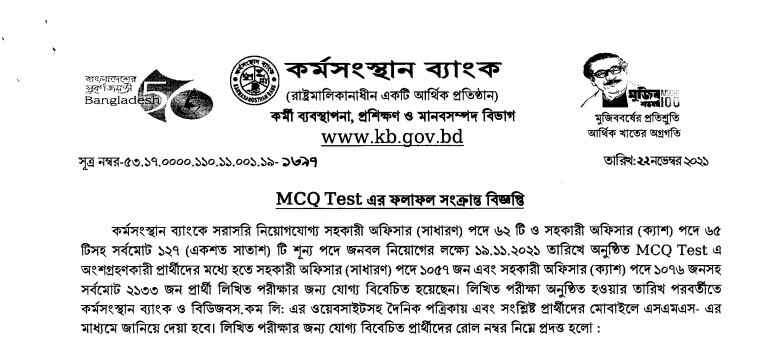 Karmasangsthan Bank Result: How to check easily
First of all, you will have to enter on the official website of the Karmasangsthan Bank authority.
For this, just open a new tap from your Internet Browser and need to type http://www.kb.gov.bd/ in the address bar. After that, tap on the enter button or icon from the keyboard as similar to other websites.
Once you tap on there, you will automatically enter on the main page of official web server. Now, you have to find out the "Recent Notice" from the main page.
Now, simply click on the notice that name "Karmasangsthan Bank Result 2021"
Then, the result sheet will be appear on your screen soon.
Finally, click on the "Download" button from this page. It will provide your MCQ Result within a few seconds.
Also Read: DU C Unit Result 2021 likely Tuesday
For Latest News Updates, Please Follow OgroNews.Com on Google News Channel