Lokkhi Puja 2021; Date, Time, Tithi, Shuvo Muhurot for Bangladesh and India. Lokkhi Puja or Lakshmi Puja is one of the biggest Hindu festivals that is celebrated after the Durga Puja. This year the auspicious festival takes place on 20th October 2021 where the Purnima Tithi will start at 07:33 PM.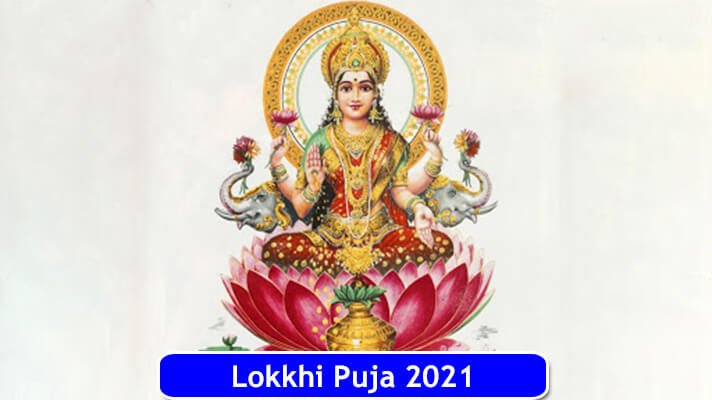 Maa Lokkhi or Lakshmi is the Goddess of wealth, prosperity, spiritual wealth, good fortune, and beauty. She is the wife of Lord Bishnu. The devotees worship Lokki Puja every Thursday to get prosperity where Kojagori Lokkhi Puja is celebrated on a specific day according to the Panchang. However, if you also looking for Lokkhi Puja 2021 Date, Time, Tithi, and more, then you have reached the perfect place.
Lokkhi Puja 2021
Goddess Lokkhi or Maa Lokkhi is the goddess of wealth, prosperity, auspiciousness, and good fortune. This festival is also called Lakshmi Puja or Lokkhi Puja (Bengali: লক্ষী পূজা). Every year the festival always takes place on Amavasya tithi (new moon day) of Krishna Paksha in the Vikram Samvat Hindu calendar month of Ashwin or Kartik. Besides this, the festival falls after the 7th day of Durga Puja.
In 2021, Lokkhi Puja 2021 festival will take place on 19th October 2021 in Bangladesh, India. On that day, the Purnima Tithi Begins at 07:33 PM. Then the Purnima tithi will end on 20th October 2021 at 08:56 PM. However, let's check the full date and time for Lokkhi Puja 2021 Date and Time.
Lokkhi Puja 2021: Full Date, Time and Tithi
Name of the Event: Lokkhi Puja 2021
Bengali Name: লক্ষী পূজা
Event Date: Tuesday, 19th October 2021
End Date: Wednesday, 20th October 2021
Purnima Tithi Begins Time: Tuesday 19th October 2021 at 07:33 PM (Bangladeshi Time).
End Date: Wednesday 20th October 2021 at 08:56 PM (Bangladeshi Time).
Kojagari Puja Nishita Time – 11:18 PM to 12:08 AM, 20th October 2021
Duration – 00 Hours 50 Mins
Writer Note: The date, time, and tithi added here as per Bangladeshi Local Time. So, if you are from the USA, India, and Nepal, so adjust the time according to your time zone.
For Latest News Updates, Please Follow OgroNews.Com on Google News Channel