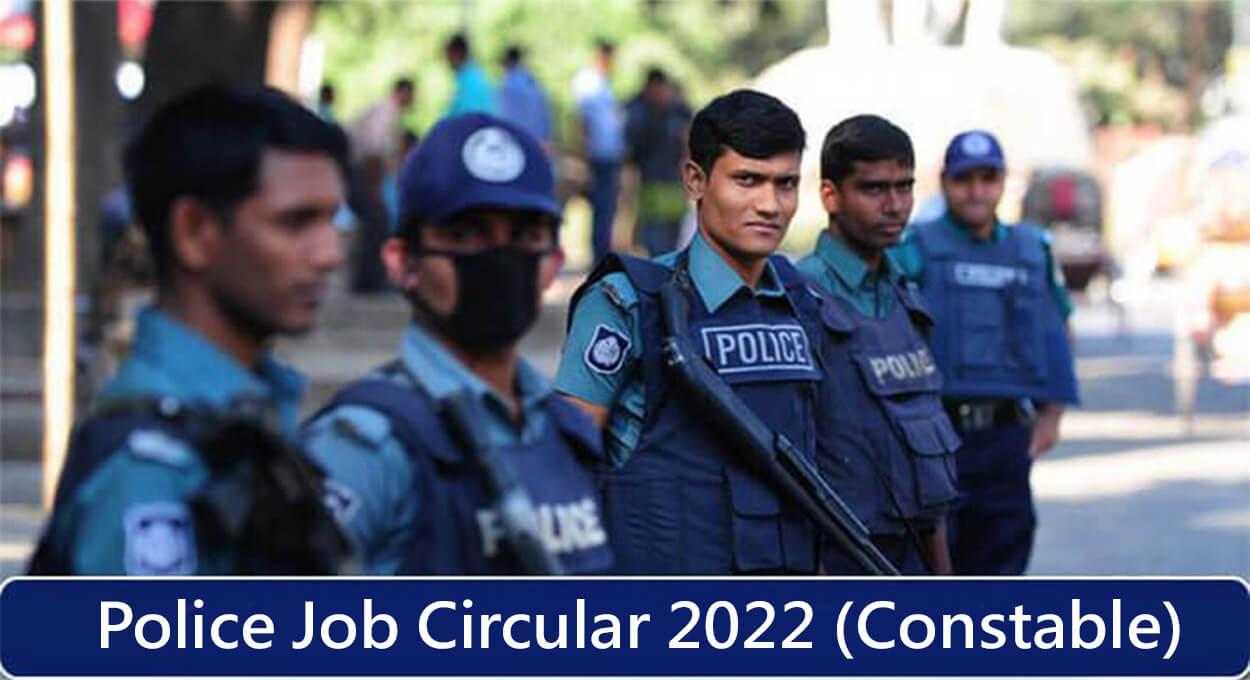 Police Job Circular 2022: Bangladesh Police has been published a recruitment notification for Trainee Recruit Constable (TRC) on January 31, 2022. They are going to recruit almost 10 thousand people across the country based on district-wise quota. Interested people can submit the application Online.
Bangladesh Police authority has been declared the recruitment notice through their official Facebook Page today (January 31, 2022) at 03:52 PM. Now, a lot of people eagerly searching for this. In the meantime, if you also looking for Police Constable Job Circular 2022, Apply Date, and more, then you have reached the perfect place.
Police Job Circular 2022: Trainee Recruit Constable Recruitment
Bangladesh Police authority has been declared the recruitment notice through their official Facebook Page today (January 31, 2022) at 03:52 PM. While wiring this news, the authority did not upload it to their official website. As a result, there are lakhs of interested people who are eagerly searching for the official circular.
As per Police Job Circular 2022, the online application will start on February 1, 2022, through the official website. Interested and eligible candidates can submit their application direct at police.teletalk.com.bd. The online application will end on February 28, 2022, said the authority.
District Wise Candidates Quota
Here is the direct link of recruitment notification (Official): Main Circular PDF, District Wise Candidates Quota List
Police Job Circular 2022: How to apply for Constable
Before going to apply for Police Constable Job, candidates should select the post or category as per their educational qualification. After that, you may jump to the following steps.
First of all, visit the official web URL of the Bangladesh Police. You can directly enter the website by clicking the link police.teletalk.com.bd
When you successfully enter the website, now click on "Application Form" from the main menu. There you will also get the circular downloading message.
The new web page will be visible after clicking on the desired menu.
Now, you will get the application form. So, fill up the box by providing "Applicant Name, Father's Name, and Mother's Name".
Write your birth date in the desired field.
Input your National ID Card Number or Birth Registration Number. Note: You can use the Birth Registration Number if you don't have the National ID Card.
Input your SSC, HSC, or Higher Exam information in the desired box.
Click on the "Next" button and upload a recently taken color photo.
Upload your signature by clicking on the upload option.
Step 10: Now, simply click on the "Preview Application" button after providing the correct information.
If all the information is correct, then click on the "Submit Application" option.
If you complete the above steps, then you will redirect to a new page. Then you have to download the applicant's form by clicking on the download button. Now save the form to pay the application fee for Police Job Apply.
How to Pay Police Job Apply Fee
To pay the application fee, you have to open the messaging app from your phone. Write the following keywords.
Police <Space> User ID and send the message to 16222.
Example: Police OIJKHGUHJ
After that, you will get a message from 16222 with a PIN Number. This is called the confirmation pin number. The message will be like the following text.
[Applicant Name], Tk. [Apply Fee here] will be charged for [Post Name] of Police. Your PIN is [Pin Number here]. To pay the fee, type: Police YES [Pin Number here] and send it to 16222
Now follow the instruction below to complete the application fee payment process.
Note: Please remember, to try to submit your Police Job Application when it starts its online application process officially. We suggest you do not delay submitting your application. Otherwise, you will be facing a server loading problem while submitting your application.
For Latest News Updates, Please Follow OgroNews.Com on Google News Channel
(The above news first appeared on Ogro News on January 31, 2022, at 05:36 PM BST – Bangladesh Standard Time. For more news on Education, Technology, Entertainment, Sports, Festivals, Celebrities, Lifestyle, and Trending News, so bookmark our news portal OgroNews.com. Also, like our official Facebook Page, and Follow us on Twitter at @ogronewsbd).