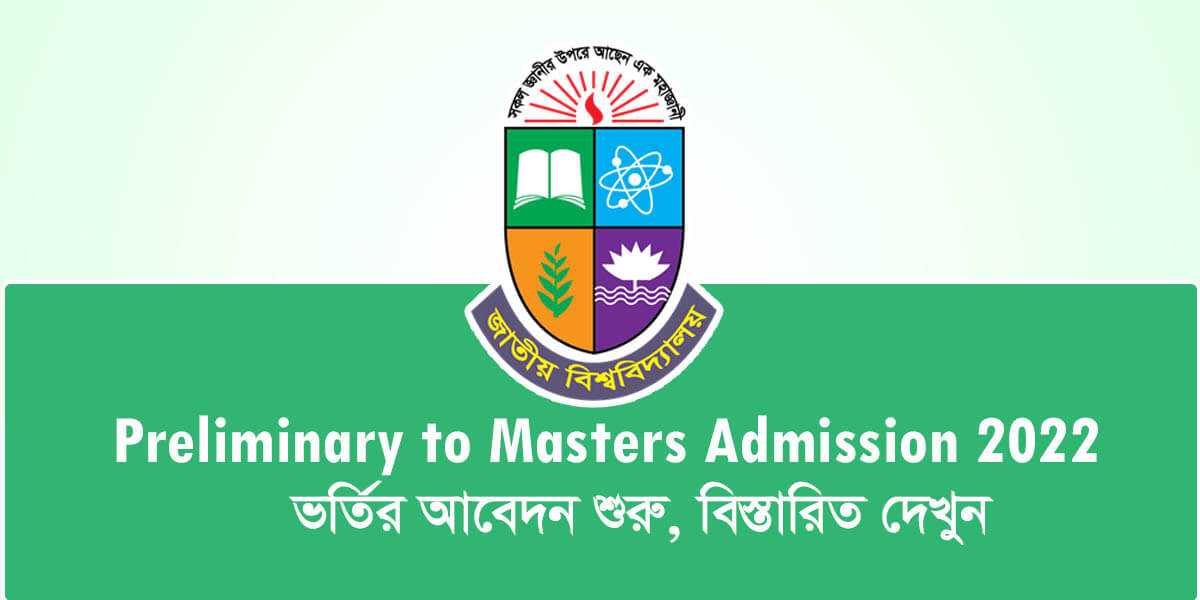 Preliminary to Masters Admission 2022: The online application of National University NU Preli to Masters aka Masters Preliminary Admission 2022 has started on March 16, 2022. Eligible and interested candidates can apply directly from the official website.
National University has been declared the admission notice for regular session 2019-2020. The students who passed three years Degree Pass Course from 2015 to 2019 are eligible to apply. The university will charge 300 Taka for the application fee. The online application already started on March 16, 2022, at 04:00 PM.
Preliminary to Masters Admission 2022
On March 16, 2022, National University Authority published the notice regarding Preli to Masters Admission for the session 2019-2020. As per the notice, those students can apply who passed three years Degree (Pass Course) Regular Exam from 2015 to 2019 with a minimum 45% GPA or a minimum of 2.5% CGPA. But the students who passed the Degree Private course, are not eligible for admission.
This year, NU Preliminary To Masters Admission 2022 date and time was declared on March 16, 2022. The online application has been started on March 16, 2022, at 04:00 PM. Eligible and interested students can apply for admission within March 29, 2022. They have to pay 300 Taka as an application fee before the application deadline.
| | |
| --- | --- |
| Event Name | Admission |
| Name of the admission | Preliminary to Masters |
| Session | 2019-2020 |
| Application Start Date | March 16, 2022 |
| End Date | March 29, 2022 |
| Application Fee | 300 Taka |
| Application Confirm Date (By College) | March 20 to 30 |
The information regarding the admission came from the official notice which is signed by Professor D. MD Anowar Hossain, Dean of National University. It is also said that the respected college needs to pay the application from March 16 to 30, 2022 through Mobile Banking System. The applicants need to cancel the previous admission that is similar to Preliminary to Masters. Otherwise, both admission and registration will be canceled automatically.
Steps to apply for Masters Preliminary Admission 2022
The applicants need to pay 300 Taka for the Preliminary Application fee after completing the online application process.
To complete the application process, candidates will have to follow the instructions.
First of all, you have to visit the admission portal of the National University. For this, type "http://www.nu.ac.bd/admissions" into the address bar.
Once you reached the main page of the admission portal, you will need to tap on the "Masters' tap.
Then, you will need to click on "Apply Now (Masters Preli) from the main page.
Now, write the educational qualification details including Email ID, Mobile Number in the desired box.
Re-check all the information and tap on the "Next" button.
After that, you will have to upload recently captured photo (120×150 pixels) which is can't be longer than 50 KB.
Finally, tap on the "Submit" application button from the page.
Download the application copy for further reference.
Also Read: Primary Exam Date 2022
For Latest News Updates, Please Follow OgroNews.Com on Google News Channel
(The above news first appeared on Ogro News on March 17, 2022, at 02:50 PM BST – Bangladesh Standard Time. For more news on Education, Technology, Entertainment, Sports, Festivals, Celebrities, Lifestyle, and Trending News, so bookmark our news portal OgroNews.com. Also, like our official Facebook Page, and Follow us on Twitter at @ogronewsbd).