Robin Das Cricketer: British Bangladeshi "Robin Games Das" son of Moni Das became the first British Bangladeshi Cricket who debut on England national team to play a Test match for the team.[adinserter block="1″]
This is the trending news for Bangladeshi people who love cricket. This is the first time that a Bangladeshi descent has got a chance to play for England National Cricket Team. James came as an alternative fielder in the first Test between New Zealand and England on Thursday, June 2, 2022.[adinserter block="2″]
Robin Das Cricketer
Robin (Full Name: Robin Games Das) was born on 27 February 2002 in Leytonstone, London, England. He is the son of Moni Das, a popular face in London's Bangladeshi Community. Moni from Ukilpara of Sunamganj city of Bangladesh who currently lives in London for many years.
As per the report, Robin Das is a right-handed batsman who debuted on England National Cricket Team. The crazy cricket fans and people of Sunamganj have also been filled with joy when they found Robin Games Das while watching the first Test between New Zealand and England.[adinserter block="3″]
Md Najmul Islam, Cyber Security expert of Bangladesh Police posted on his Facebook Profile to wish the British Bangladeshi Cricketer "Robin". He said, "The good news is that Robin Das, son of my friend Bakka Siloti (Sunamganj) Moni Das, has been debuted into the England cricket team as the twelfth player. This may be the first time that any cricketer of Bangladeshi descent has got a chance in the England national cricket team. Robin Das became the 12th cricketer to field between England and New Zealand at Lord's."
Nazmul Sumon also included that "Nephew is a solid batsman. Best of luck to him". The full post is mentioned here.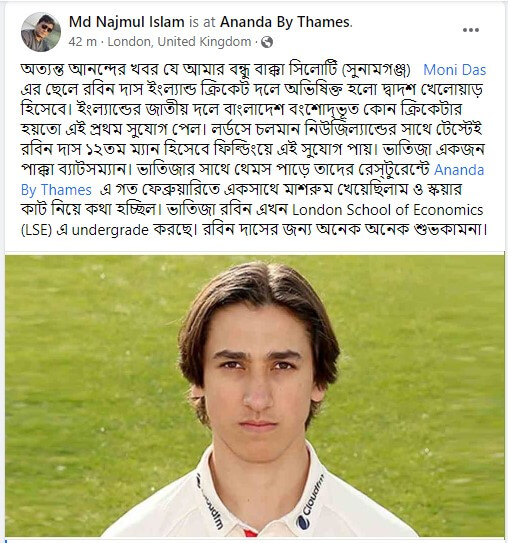 As the first British Bangladeshi Cricketer, Robin is our pride. We should wish him good luck.
For Latest News Updates, Please Follow "Ogro News" on Google News Channel
(The above news first appeared on Ogro News on June 5, 2022, at 01:13 AM BST – Bangladesh Standard Time. For more news on Education, Technology, Entertainment, Sports, Festivals, Celebrities, Lifestyle, and Trending News, so bookmark our news portal OgroNews.com. Also, like our official Facebook Page, and Follow us on Twitter at @ogronewsbd).