SSC English 1st Paper Short Syllabus 2022: Ministry of Bangladesh Education Board released the Revised Syllabus for the English 1st Paper Exam, going to take place on September 19, 2022 All Education Board. The Exam will start at 11:00 AM as per the schedule. Now, the candidates who are going to take the part in the public exam have to get the new syllabus.[adinserter block="1″]
SSC English 1st Paper Short Syllabus 2022 due to Covid
Due to the Covid-19 Pandemic across the country, Educational Institutions were shut down for 1 and a half of the year. For this, students are won't able to enter their institutes for study. As a result, the situation creates huge problems for those students who are in the final stage of the Board Exam.[adinserter block="2″]
For the convenience of the students, the Ministry of Education Board decided to take the exam in the short syllabus. Education Board released all the subjects including SSC English 1st Paper Short Syllabus 2022 for the upcoming Secondary School Certificate – SSC, and Equivalent Exam.[adinserter block="3″]
Notice Regarding SSC English Short Syllabus 2022
A meeting was held with the chairman of the All Education Board. After the meeting, the Ministry of Education Board declared that they are going to conduct the SSC and HSC Exam 2022 based on the short syllabus. The notice was officially published on May 17, 2021, through the Secondary Education Board portal.[adinserter block="4″]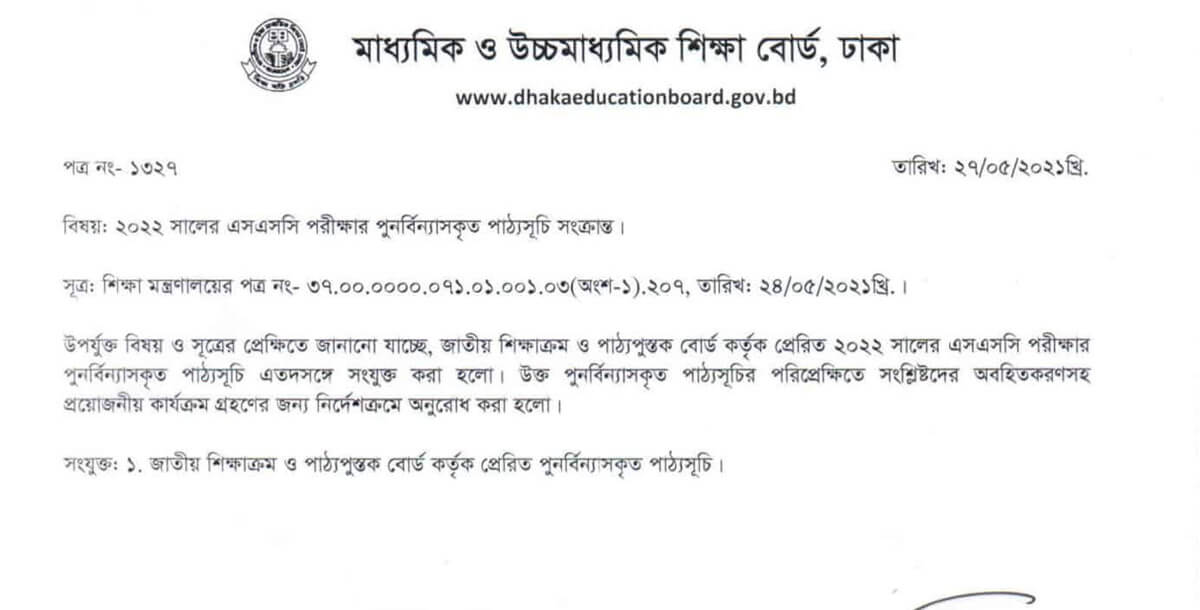 After a few months, the authority released the Revised Syllabus for SSC Exam. As a result, the old syllabus has changed for the All Education Board. This is why candidates have to know SSC English Short Syllabus 2022 to take the final preparation.[adinserter block="1″]
For the convenience of the SSC Candidates, we have shared the official syllabus for the English 1st Paper Exam scheduled for Monday, September 19, 2022.
Also Read: SSC Bangla 2nd Paper MCQ Solution 2022
SSC English 1st Paper Short Syllabus 2022: Chapters Number & Lessons Name
According to the revised syllabus, SSC English 1st Paper Exam will be taken for 50 Marks. There are 30 marks for the seen passage mentioned in the question paper. A total of 5 marks for Multiple Choice Questions (MCQ), and 8 Marks for Answering questions Based on the passage.[adinserter block="2″]
On the other hand, 5 marks for Gap filling without clues, Summarizing the passage for 5 Marks. The Chapters Number & Lessons Name are mentioned below for the passage.
Unit 3: Events and Festivals
Unit 4: Are We Aware?
Unit 5: Nature and Environment
Unit 7: People Who Stand Out
Unit 11: Renewable Energy
If the candidates complete the syllabus and get the question common, so they will be able to get 30 marks from the passage.
In the writing part, candidates will have to answer 3 questions. As per the question pattern, the examinee will get 20 marks for the Writing Part.
It is clearly mentioned on the SSC English 1st Paper Short Syllabus 2022, that there are 8 marks for writing paragraphs by answering questions, 7 marks for email writing, and 5 marks for dialogue.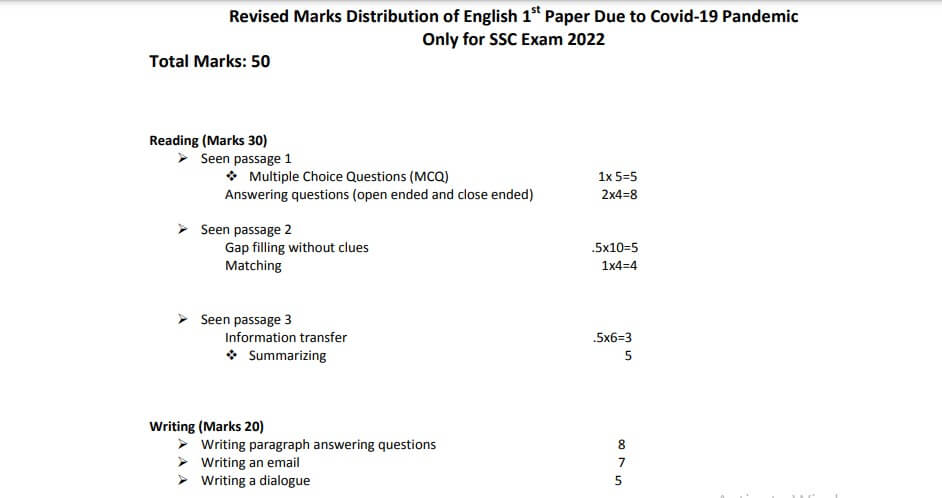 For Latest News Updates, Please Follow "Ogro News" on Google News Channel