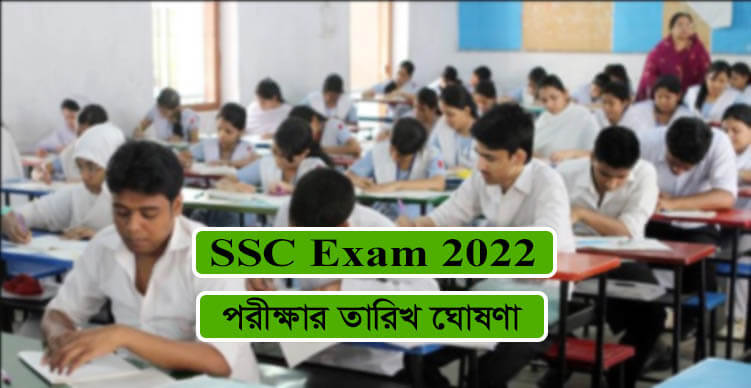 SSC Exam 2022 News Update Today: The date of the upcoming SSC Exam has been declared for the year 2022. The exam will be held on June 19, 2022, Said Tapan Kumar Sarkar, Chairman of Dhaka Education Board.
Update News: SSC Routine 2022 Published on April 27, 2022.
Finally, Bangladesh Education Board succeed to declared SSC Exam 2022 Date and time. Candidates will get a clear idea regarding this matter.
SSC Exam 2022: When will exam in 2022?
SSC Exam 2022 News has been published officially. But before the announcement, a lot of students want to know when the exam will hold for 2022? This is the trending question in Bangladesh. The maximum number of candidates looking for the news who are going to seat in the upcoming SSC Exam.
Finally, SSC Exam 2022 Date has been announced by Dhaka Education Board's Chairman, Tapan Kumar Sarkar. This year, SSC Exam will take place on June 19, 2022, and the HSC exam will take place on August 22, 2022, said the chairman on Monday, February 28, 2022. This information came from the office order signed by Tapan Kumar Sarkar.
২০২২ সালের মাধ্যমিক স্কুল সার্টিফিকেট (এসএসসি) পরীক্ষা আগামী ১৯ জুন ও উচ্চ মাধ্যমিক স্কুল সার্টিফিকেট (এইচএসসি) পরীক্ষা ২২ আগস্ট মাসে অনুষ্ঠিত হবে।— Chariman of Dhaka Education Board
Previous News
Due to covid-19 rising educational institutions are close. As a result, it has been decided to hold SSC and equivalent examinations on May 19 and HSC and equivalent examinations on July 18. It was also decided to reduce the exam duration and number. The decision was taken at a recent virtual meeting of education boards chaired by Education Minister Dipu Moni.
নম্বর-সময় কমিয়ে এসএসসি ১৯ মে, এইচএসসি ১৮ জুলাই নেয়ার পরিকল্পনা। ২০২১ সালের মতো এবারও দুই পাবলিক পরীক্ষা তিন ঘণ্টার পরিবর্তে নেওয়া হবে দেড় ঘণ্টায়। পরীক্ষায় পূর্ণমান ১০০ নম্বরের পরিবর্তে নির্ধারিত থাকছে ৫০ নম্বর। তবে এবার সব বিষয়ে সংক্ষিপ্ত সিলেবাসের ওপর পরীক্ষা নেওয়া হবে। ইসলাম ও নৈতিক শিক্ষা এবং আইসিটি বিষয় বাদ দিয়ে অন্যান্য বিষয়ের পরীক্ষা হতে পারে। — Education Minister
On 14th November 2021, Sunday, Education Minister Dipu Moni said regarding this matter. Education Minister said that SSC and equivalent examinations of 2022 will not be starting in February-2022. SSC Exam 2021 will end on 23rd November this year. As a result, it is not possible to take the Exam on 1st February or the 1st Week of February 2022.
But, if the situation is under control, so the exam will start very soon and we do not want to delay like SSC Exam 2021. I hope it will be possible to take this exam by May-June 2022.
How the SSC Exam 2022 will be taken will be declared very soon the education minister said.
For Latest News Updates, Please Follow OgroNews.Com on Google News Channel

(The above story first appeared on OgroNews.Com on 14 November 2021, at 06:03 PM, Updated on March 22, 2022, at 11:42 AM BST – Bangladesh Standard Time. For more news on Education, Technology, Entertainment, Sports, Festivals, Celebrities, Lifestyle, and Trending News, so bookmark our news portal OgroNews.com. Also, like our official Facebook Page, and Follow us on Twitter at @ogronews).