SSC Routine 2021 Dinajpur Board Published. Dinajpur Secondary and Higher Secondary Education Board have been published a routine for the upcoming SSC Exam. Now, Students can collect their exam routine from the official website.
After a long controversy, Education Board has been succeeded to publish the routine for All Education Board. As a result, the exam going to start on 14 November 2021 this year. However, if you are from Dinajpur Board and looking for SSC Routine 2021 Dinajpur Board, then you can easily able to get it from this page.
SSC Routine 2021 Dinajpur Board
SSC is the third Board and Public Exam in Bangladesh. Dinajpur Board is also part of this exam. Every year more than 2 lakh of students participate in the exam from this Education Board. Apart from this, every year SSC Exam is held on 1st or 2nd February in Dinajpur Board. However, let's check SSC Exam 2021 Date from here.
SSC Exam Start Date: 14 November 2021
Exam End Date: 23 November 2021
SSC Routine 2021 Dinajpur Board: How to collect
Now, SSC Examinee will be understood about the exam start and end date from the above table. Now SSC Examinee should download the SSC Routine 2021 before going to attend the exam. In fact, the student should start their final preparation after getting this. In the meantime, they need to know the procedure to collect the exam routine.
Step 01: You have to open the official web portal of Dinajpur Board. Without this, no one can get the routine. For this, you have to open dinajpurboard.gov.bd.
Step 02: After that, you need to open a fastest internet browser from your Android or iPhone and need to type the above website link into the address bar of the internet browser. Then, simply tap on "Go" or "Enter" button as similar as other website if you used to visit.
Step 03: Once you done the "2nd Step", you will be automatically redirect to the official website. Then, the homepage will appear within a few seconds.
Step 04: Now, you to to use the slider to scroll down the page to find out the recent notice. The new notice willl be highlighing.
Step 05: Simply, tap on the notice that named "SSC Exam Routine". Then the routine will appear shortly.
Step 06: Finally, tap on the "Download" option that will be available at the top right corner. After that, routine downloading process will start automatically.
Here is the direct link: SSC Routine 2021 Dinajpur Board PDF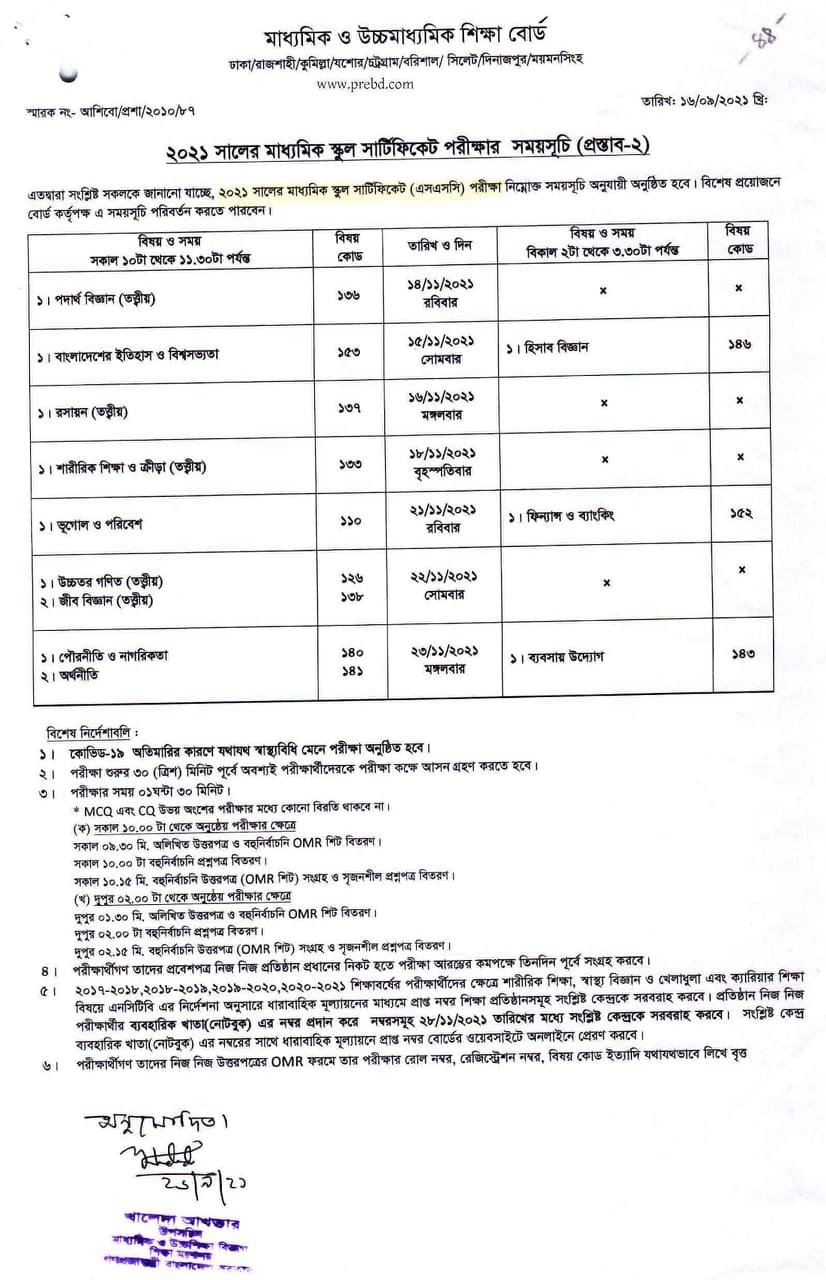 For Latest News Updates, Please Follow OgroNews.Com on Google News Channel

(The above story first appeared on OgroNews on 27 September 2021, at 12:50 PM BST (Bangladesh Standard time). For more news and updates on Education, Technology, Entertainment, Sports, Festivals, Celebrity News, Lifestyle, and Trending News, so bookmark our website OgroNews.com. Also, like our official Facebook Page, and Follow us on Twitter @ogronews21).