BTEB Routine 2022: Diploma in Engineering, Diploma in Tourism and Hospitality 1st, 3rd, 5th & 7th Semester Regular, 4th, 6th Improvement, and 8th Semester Irregular Exam Routine for Bangladesh Technical Education Board has been published officially. The 1st Exam of the 5th Semester will take place on August 22, 2022, from 10:00 AM. The 4th Semester Exam will start at 02:00 PM on the same day as per the routine.[adinserter block="1″]
BTEB Routine 2022: Diploma in Engineering, Tourism and Hospitality Exam
Bangladesh Technical Education Board Authority, BTEB has declared the Exam Date and Time for Diploma in Engineering 1st, 3rd, 5th & 7th Semester Regular, 4th, and 6th Semester Improvement exam under Bangladesh Technical Education Board is going to start on August 22, 2022.[adinserter block="2″]
On the other hand, 3rd, 5th, and 7th Semester Regular, 4th, 6th Improvement, and 8th Semester irregular exams for the Diploma in Tourism and Hospitality Exam will be held on the same date as per the exam routine published yesterday (August 3, 2022).
The notice regarding BTEB Routine 2022 has released on August 3, 2022 (Thursday) through the official press release. The notice was signed by Mohammad Abul Shahin Kawsar Sarkar, Sub-Exam Controller of Diploma in the Engineering Department.[adinserter block="3″]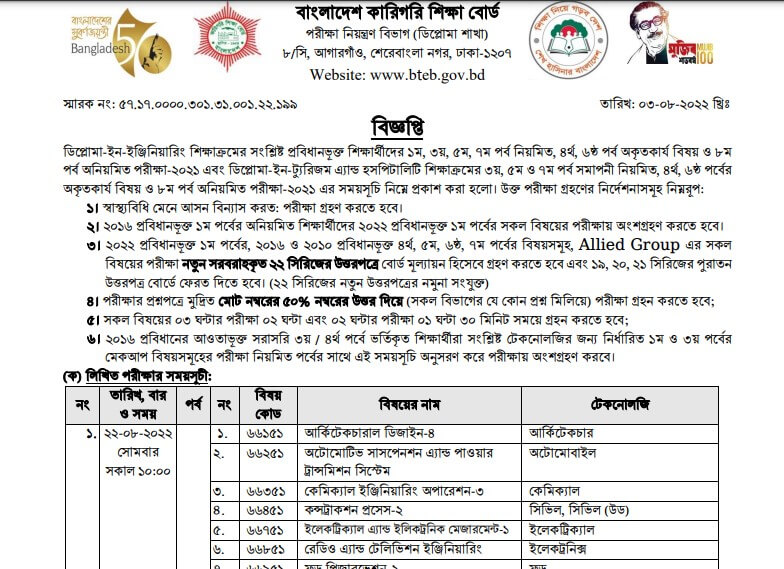 Also Read: GST A Unit Result 2022 Link
BTEB Routine 2022 PDF: How to download
The students of the BTEB Diploma in Engineering Department are advised to collect the exam routine for the mentioned semesters. For this, students have to enter on the official website.[adinserter block="4″]
In order to collect the exam routine, they may follow the instructions given below;
Step 1: At first, open the official website of BTEB: bteb.gov.bd
Step 2: Find out the recent notice from the homepage and click there.
Step 3: All the notices will be visible on your screen.
Step 4: Now, tap on "BTEB Routine 2022 for Diploma in Engineering" from there.
Step 5: Click on the "Download" icon.
Step 6: Save the PDF file on your device.
Step 7: Finally, print out the routine for the best practice.
For Latest News Updates, Please Follow "Ogro News" on Google News Channel