Dental Admission Result 2021 Published, 26,626 Students Got Minimum 40 Marks, here's the direct link to check. The Bachelor of Dental Surgeons 1st Year Admission results is now available online for the session 2020-21. Students can check their results from the official website.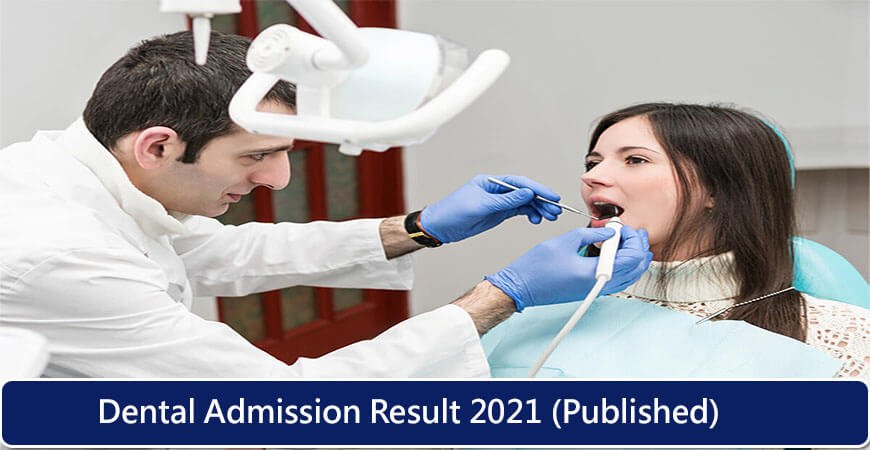 According to the notice, the admission test was held on 10 September 2021 in the Govt and Private Dental College, Unit for the session 2020-21 and the academic year 2021. Candidates will be eagerly waiting for their admission test results. However, if you want to check Dental Admission Result 2021 by SMS and Online, then you will get your result easily from this website.
Dental Admission Result 2021 Published Today!
A lot of people looking for their admission results. Today 12 September 2021 at the afternoon, Director-General Prof. AHM Enayet Hossain has published the result In the conference room of the Department of Health. A total of 26,626 Students Got a Minimum of 40 Marks on the admission test.
They said that a total of 545 students have been selected in one government dental college and six medical college dental units on a merit list and quota basis for Dental Admission 2020-21 sessions. According to the news, Nazmus Shakib Rahad is the first on the merit list. He get 295 marks on the admission test and was selected for Dhaka Dental College.
Dental Admission Test Result 2021: How to check
First of all, you have visit the official web portal of Dental Admission. The official url is dghs.teletalk.com.bd.
After that, write the url on your favorite internet browser and hit enter.
Once, you hit enter the homepage will appear within a few seconds.
Now, write admission roll number in the first box. The roll number available on your admit card.
Write Pin number in the second box.
Finally, re-check all the information and click on "Submit" button.
Well, if you applied the above steps correctly, then you will succeed to collect their Dental Exam Result 2021 within a few seconds. In the meantime, you can also get your result from the official web portal teletalk again. The authority also published it as a pdf file through their website.
For Latest News Updates, Please Follow OgroNews.Com on Google News Channel