Fire Service Result 2022 PDF. Bangladesh Fire Service and Civil Defence authority has published the Fire Fighter Field Test Exam and Physical Test Exam Result. A total of 3963 candidates have qualified for the Written Exam. The Field Test/Physical Test exam was started on July 17, 2022. The exam ended on July 22, 2022, according to the notification.
Fire Service and Civil Defence aka FSCD authority published the Preliminary Exam Result for the Firefighter post today, August 1, 2022. Lakh of candidates appeared at the exam center and completed the test between July 17 to July 22, 2022.
As per the notice published on Monday, August 1, 2022 (Today), Fire Service Result 2022 has been published in a PDF file for the Fire Fighter Post. A total of 3 thousand and 963 candidates have passed on the exam and those candidates are qualified for the written exam.
It is also mentioned that Fire Fighter Written Exam will take place on August 12, 2022. On the other hand, the exam time will be notified by the registered mobile number and through the official notice as well.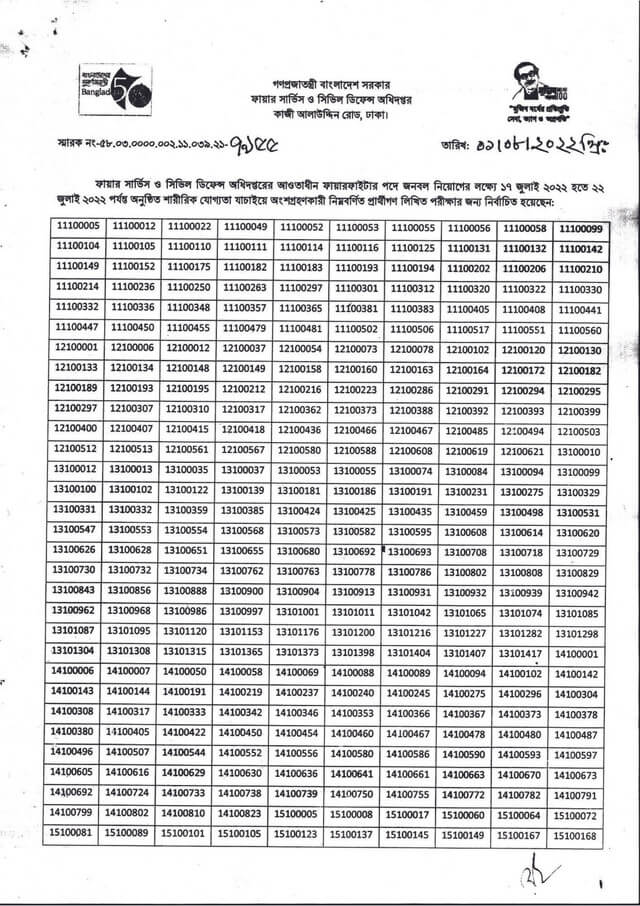 Fire Service Result 2022 PDF for Fire Fighter Post: How to download
You will need to open the official web address of Fire Service (fireservice.gov.bd) from the internet browser.
Click on the Fire Service Fire Fighter Exam Result Link from the main page. It will be available in the top under the recent notice menu.
Download or save the result sheet.
Open the pdf file and search your roll number.
For Latest News Updates, Please Follow "Ogro News" on Google News Channel
(The above news first appeared on Ogro News on August 1, 2022, at 10:46 PM BST – Bangladesh Standard Time. For more news on Education, Technology, Entertainment, Sports, Festivals, Celebrities, Lifestyle, and Trending News, so bookmark our news portal OgroNews.com. Also, like our official Facebook Page, and Follow us on Twitter at @ogronewsbd).