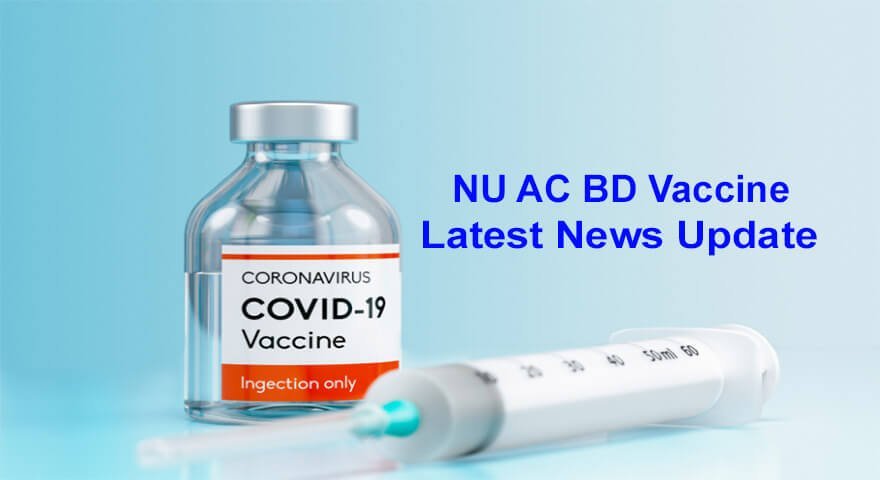 National University Authority brings Breaking News for NU AC BD Vaccine Registration. The vaccine registration date has been extended. As per the news, all the student who studying at National University, they can get 6 days more to submit their NU Covid Vaccine Registration Form. Before that, the application submission's last date was 12 July 2021. But a huge number of students won't able to complete their registration process due to the server loading problem. As a result, they already fall into tension. However, if you also one of them so there is Breaking News for you. You will get a few days to apply for NU AC BD Vaccine Registration.
NU AC BD Vaccine Date and Time
According to the previous notice of the National University, the registration process has been ended. Because the application's last date was 12 July. This is the only reason that why students are worried. They are waiting for a few days more to do the registration.
For this reason, the maximum number of students trying to notify the authority. They try to post on Facebook wall and the National University-related groups to extend the time. But now, there is no need to worry!
National University Authority understood that problem. That's why they declared that the application date has been increased. If any students won't able to submit the registration form on 12 July, so they can get 6 days more to do it.
To avoid any interruption, we are going to share the registration procedure. Students can get it from below.
The Procedure to Submit NU AC BD Vaccine Registration
Most of the time a huge number of students failed to submit their applications. Because they don't have any idea about the registration procedure. For this reason, they failed to complete the registration before the deadline. If you also one of them, so you will learn the easy way from here.
Step One: First of all, students must need to visit the official web address for NU Covid Vaccine. They can simply enter on there by clicking the link that we have inserted here http://103.113.200.29/student_covidinfo/
Step Two: When you clicked on the above link, then they will automatically redirect to a new web page. The application deadline will visisble on this page.
Step Three: After enter the official website, students need to write their "Registration Number" in the first box.
Step Four: After that, click on "Next" option from this page.
Five: Inter your Name, Session, in the desired feild.
Step Six: Finally, recheck all the information a few times, and click on submit button.
That's was all about the procedure regarding the NU AC BD Vaccine Registration. If anyone follows the above instruction, they can easily able to submit their application.
Note: If you face any issues while registering, so try again later. It can happen due to the server loading problem.
(The above story first appeared on OgroNews on July 12, 2021, at 02:17 PM BST (Bangladesh Standard time). For more news and updates on World News, Politics, Sports, Education, Entertainment, Technology, Android Apps, Games Review, And Lifestyle, bookmark our website OgroNews.com).