Surokkha Gov BD Live News for Bangladesh, National ID Card Required for Covid Vaccine, Here is the latest update: Bangladesh Government now allow 18 years old people for Covid-19 Vaccine. This is a great opportunity for those people who are waiting for the vaccine. A few days ago, National University NU AC BD Vaccine Registration has been ended. However, every people need to register for it. You will get 64 districts Covid-19 Vaccine Registration information through this website. Bangladesh Government already announced that they got Covid-19 Vaccine and already start their mission to save our life through this vaccine. It is really good news for us. Anyway, here you will get all the related information regarding Surokkha Bd Registration.
Surokkha Gov Bd Registration
As you guys know that, Covid-19 (Coronavirus) Pandemic is harmful to humans. Bangladesh Government declared that Education Institution will be shut down before the situation under control. And we should follow social distancing to save our life from this virus.
HSC Exam 2021 was canceled due to the Pandemic. Education Board Published their result by the Auto Pass Method. At the present time, SSC Exam 2021 will be held on delay for the same reason.
In addition, Education Board Authority has been published SSC and HSC Short Syllabus for the upcoming exam. We also published the syllabus and you can get it from our website. However, now it is time to talk about Coronavirus Vaccine Registration System for Bangladeshi People.
How To Apply for Surokkha Bd Covid-19 Vaccine?
Do you want to know how to register on Surokkha Bd for Covid-19 Vaccine? Now, this is a common question in Bangladesh. Because everyone is worry about the Coronavirus. They won't able to do their works like before the Pandemic.
However, there is no need to worry! According to the official announcement of the Bangladesh Government, we got the vaccine and we hope everything will be restarting smoothly. Let's go forward to apply for the vaccine.
Surokkha Gov Bd Registration Method – Online
As we already mentioned that, BD Covid-19 Vaccine Registration is a trending topic in Bangladesh. But the maximum people do not know the registration method. Because everyone needs to register to get it.
Before that, you should require the following info:
National Identification Number (NID)
Phone Number
Need to provide real information
If you have the above info, so you may go ahead to register on the official portal. To register, you need to follow the steps below.
Step 01: First of all, you need to visit the official web portal of Surokkha Bd. You can simply enter on there by clicking the link that we have inserted here surokkha.gov.bd
Step 02: When anyone clicked on the above link, then they will get a new web page like the following picture.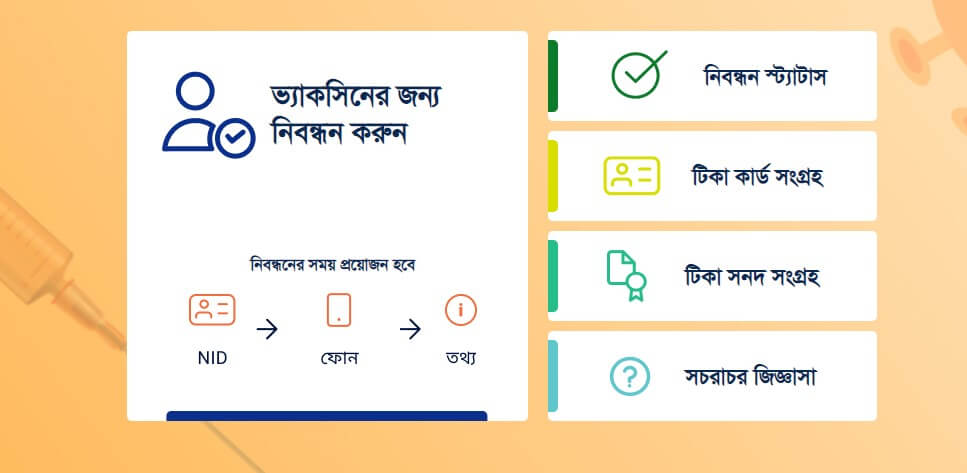 Step 03: Now, you have to click on the "Register for Vaccine/ভ্যাকসিনের জন্য নিবন্ধন করুন" menu. After that, you will redirect to a new page.
Step 04: Select type by clicking the drop-down box.
Step 05: After that, you need to write the National ID Card Number in the desired field. Similarly, select your Birth Date, Month, and Year from the left menu.
Step 06: Write the "correct text" that visible in the above and click on the "যাচাই করুন" option.
Step 07: Type information that required on the official website.
08: Write the current location in the address box.
Step 09: Select the "Center" to get your vaccine. After that, you will get OTP on your phone. Finally, click on the "Check Status" option.
So, that was the exact way to Register for Surokkha Gov Bd Covid-19 Vaccine.
Frequently Asked Questions (FAQs) about Surokkha Bd
We also get huge questions regarding Vaccine. Now you can also get the answers of the questions that we collected from different sources.
Q1: May I register for Covid-19 Vaccine from Phone?
Ans: Yes, you can easily able to register from your phone. Just follow the steps that we have shared on our website.
Q2: I have already registered, now what to do?
Ans: Now you have to visit the official website to collect your Vaccine Card. Later, you will get the date and center of the vaccine via SMS on the mobile registered phone.

Q3: How can I check Surokkha BD registration status online for the Covid-19 vaccine?
Ans: You can simply get the current status from the official website. Visit the official website and click on the "Status" option. Then enter your National ID Card Number and Birth Date in the desired box. After that, the status will be visible to you.
Q4: How do I get a vaccine card for the Coronavirus vaccine?
Ans: Everyone can get their vaccine card by login on to the official website. Enter ID Card Number and Birth Date on the status menu to get it.
Q5: I already registered now how do I know the center and date for receiving the vaccine?
Ans: If you successfully registered for the vaccine, then you will be informed by the mobile message.
Q6: Can you please tell me how many doses of the Covid-19 vaccine should be taken?
Ans: Two doses should be taken to protect Covid-19.
Q7: How can I get a vaccine certificate after completing the vaccine?
Ans: Anyone can get the vaccine certificate after taking the two doses. Then the need to visit the official website and click on "টিকা সনদ সংগ্রহ" to get the certificate.
Q8: Who can get the Covid-19 vaccine?
Ans: If anyone is 18+, then they can able to apply for the vaccine.
Conclusion:
That's was all about Surokkha Gov Bd Registration System to get Covid-19 Vaccine. We hope you succeed to submit your application. We always suggest everyone take the vaccine to save their life.
If you liked this article, so please share it with your family and friends. Thank you very much for being with Surokkhagovbd.com. Wish you a happy life.