The Answer has been announced regarding When will School Open in Bangladesh in 2021. Education Minister Dipu Moni Announced that, Schools, Colleges going to reopen on 12 September.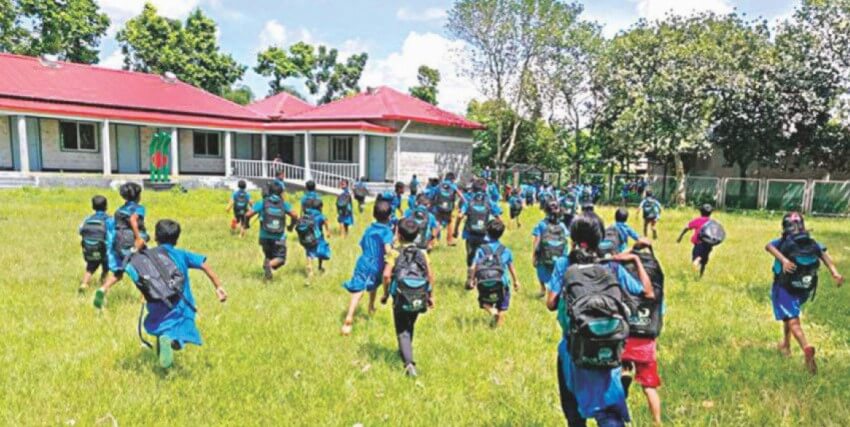 Finally, Schools, Colleges going to reopen on 12 September 2021. Education Minister confirms that.
When will School Open in Bangladesh 2021?
News on 03 September 2021
Schools, Colleges going to reopen on 12 September due to declining Covid-19 infection across the country while the Educational Institutions closed for nearly a year and a half.
The Education Minister said this while talking to journalists Abul Khayer, public relations officer of the education ministry told Ogro News.Com.
Point to be noted that, the government closed all educational institutions on 17 March 2020 due to the covid-19 issue.
News on 24 August 2021
All preparations have been completed regarding school reopen. Education Minister, Dr. Dipu Moni said that the Educational Institutions will open very soon.
News on 18 August 2021
Previously, the Education Board authority declared too many times regarding this issue. But they are failed to do this due to the increase of Covid-19 infection. They said that School, College, and University will be open on 1st August 2021. It was not possible due to the same reason. But Prime Minister brings breaking news for this.
On 18 August 2021, Prime Minister said that All educational institutions have been closed for a year and a half due to the Covid-19 Pandemic. Students are also in discomfort. In such a situation, Prime Minister Sheikh Hasina has instructed to reopen the educational institution as soon as possible when the situation in Corona comes under control after vaccinated all the students.
Anwarul (Ministry of Education) said that the Prime Minister has instructed that when a comfortable scenario comes then should be open Educational Institution when asked What instructions did the Prime Minister give about opening educational institution. They are (Ministry of Education) programming a plan to do this.
Cabinet Secretary said, "We are getting 60 million vaccines, that's why we are thinking to reopen educational institutions as soon as possible,". Coronavirus Vaccine will be given through Privilegeway among the students who will eligible as per their age limit in different groups. If the student's age is above 18 years, they will be vaccinated quickly.
He also added that the prime minister's instruction was to look at two things. If the virus infection comes under control automatically, and number two is vaccination. In fact, the secretaries and she (the Prime Minister) himself have said that the students are in an uncomfortable situation while sitting at home.
For Latest News Updates, Please Follow OgroNews.Com on Google News Channel
(The above story first appeared on OgroNews on September 03, 2021, at 03:55 PM BST (Bangladesh Standard time). For more news and updates on World News, Politics, Sports, Education, Entertainment, Technology, Android Apps, Games Review, And Lifestyle, so bookmark our website OgroNews.com. Also, like our Facebook Page, and Follow us on Twitter @ogronews21).