KK's (Krishnakumar Kunnath) concert in Kolkata, the insanity of the Bengali audience was eye-catching. But, this time singer Rupankar Bagchi said something about this. He questioned why this insanity is not shown in any Bengali singers. He also commented that many people sing better than KK. Rupankar Bagchi also put his name on this list.
Now, millions of fans want to know What did Rupankar Bagchi said about KK? If you are also one of them, so read the full story from this news.
What did Rupankar Bagchi said about KK?
Kolkata city was very excited regarding KK's show. A month ago, there was an outcry on social media for the pass. But, this time Bengali singer Rupankar Bagchi opened his mouth in the context of this frenzy about the famous Bollywood singer. The singer claims that he and many Bengali artists sing better than KK. After that, there was a storm of criticism in the context of his comments on social media.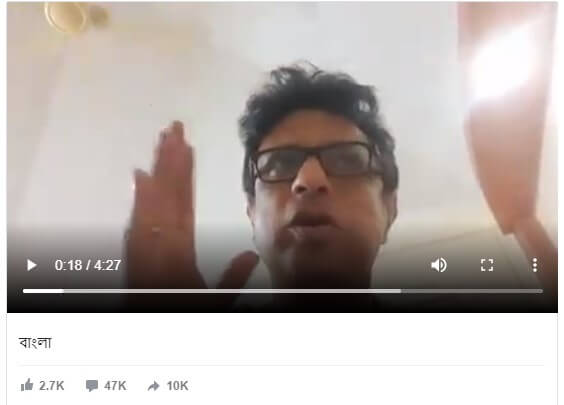 Rupankar is currently in Odisha for shooting. This Bengali singer has made a Facebook live from there. Rupankar Bagchi writes, "KK came to Kolkata today to do a show. One and only KK. Excitement over this show. I was watching some live videos of his concert that is held in Kolkata. He is a 'Wonderful' singer. But, I think I have videos like this on social media, and Somalta, Emon Manomay, Raghav, Ujjwaini, Cactus, and Roopam also have. When I heard the song, I realized that we all sing good songs from KK. Tell me why you don't feel so excited about us! "
This is not the end, he expressed his anger over the Bengali audience and added, "KK-KK-KK, who is KK! We sing better than any KK. The singers named I mentioned are much better than KK. Why so much excitement with the artists of Bombay! Learn from Odisha, Punjab, and Southern Industry.
For Latest News Updates, Please Follow OgroNews.Com on Google News Channel
(The above news first appeared on Ogro News on June 1, 2022, at 02:48 PM BST – Bangladesh Standard Time. For more news on Education, Technology, Entertainment, Sports, Festivals, Celebrities, Lifestyle, and Trending News, so bookmark our news portal OgroNews.com. Also, like our official Facebook Page, and Follow us on Twitter at @ogronewsbd).