Class 9 Routine 2021 Declared; Two Classes in a Week, Students need to know. Secondary Education Authority has been published the new class routine on Saturday, 18 September 2021 (Today) for class IX during the Covid-19 situation. Students can collect the class schedule from the official website.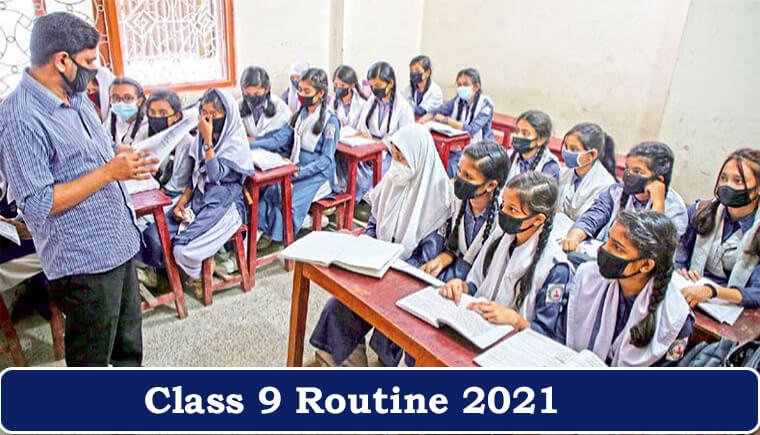 Educational Institutions have reopened on 12 September across the country. To avoid Corona Virus infection during the class on Educational Institution, Education Board publishes new schedule compliance with the hygiene rules. According to the class 9 routine 2021, students need to attend school class twice a week. On Saturday 18 September 2021 (Today), Education Board notified the school authority to collect the routine.
Class 9 Routine 2021: A New Routine for All Board
Educational Institutions were shut for 18 months due to the Covid-19 case rising in the country. However, Educational Institutions reopened in Bangladesh after a long break. But Education Board ordered all institute authorities to follow hygiene.
Apart from this, class 9 students need to attend school two days a week to continue their Education. As per the Class 9 Routine 2021, students need to go to school only on Saturday and Tuesday. Education Board authority has published on 18 September 2021 (Today) through their official website.
Class Nine Routine 2021: How to collect
A lot of students of class 9, will be searching online to collect the new class routine. They can easily do this by applying a simple method. For this, students need to enter on the official website of the Secondary Education Board. However, you may read the following method to do this within a few minutes.
First of all, you need to enter on the official web url of Secondary Education Board. For this, dshe.gov.bd is the main url for All Education Board.
Now, input the url in the address bar of Internet browser and press on "Go" button from keyboard.
You will redirect to the official portal after the above step, and the homepage will visible soon.
Once you reached the homepage, you have to findout the "recent notice" menut that will highlighing.
Simply, click on the notice that is about Class Routine. After that, the routine will visible.
Finally, click on download button when the page fully loaded. The downloading process will end automatically within a few seconds.
If you follow the above steps, it will be taking a few seconds to complete the process. The routine will save on your phone memory. Remember that, pdf reader app is required to open the pdf file. Otherwise, you will see an error message while opening the routine. However, you can also directly download Class 9 Routine 2021 from this page.
For Latest News Updates, Please Follow OgroNews.Com on Google News Channel