Honours Admission Result 2021 2nd Merit List Published; Here's the direct link to check without any problem. National University authority has been published the 2nd Merit List of NU Admission Result 2021 for the session 2020-21. Now candidates can check their results from their official web portal.
Admission Candidates will be eagerly waiting for the 2nd Merit Result who aren't selected on 1st merit. There are a lot of students who also waiting for the Subject Change Results. However, National University brings breaking news for them. They published both results on Sunday, 19 September 2021. As a result, if you also searching for Honours Admission Result 2021 2nd Merit List, NU Admission 2nd Merit Result, Subject Change Result and more, then you are entered in the perfect place.
Honours Admission Result 2021 for 2nd Merit List
As you guys know that, the National University Honours Admission apply date has been ended and it has been reached 33 days. As per the previous year, this year no admission test was taken for admission. In the meantime, every student is waiting for the 2nd merit result. Before this, candidates need to know when will publish the admission result.
2nd Merit List of NU Admission Result 2021 Published Today!
This year, the Honours Admission application was started on 28 July 2021 for the session 2020-21 the academic year 2021. Only online applications allowed for application submission continued till 14 August 2021 as per the previous notice. After that, the authority has published 1st merit result on 01 September 2021. Now, everyone waiting for the 2nd Merit and Subject Change Result.
Luckily, the National University Honours Admission Result 2021 2nd Merit List and Subject Change Result has been published on 19 September 2021 for the session 2020-21. As per the official notice, candidates can collect their admission results from 04:00 PM via Mobile SMS Method. Although, they will be able to collect it from the official website from 09:00 PM.
Honours Admission Result 2021 2nd Merit List: How to collect
There are a huge number of candidates who will be searching on the internet to know what is the best way to collect the result. Because this is the most important fact that will confirm them they are selected for study in National University or not.
To do this, National University Authority allows two different methods to provide the admission result. If any students applied those methods, so they will get the result within a few minutes. However, let's learn both methods to collect Honours Admission Result 2021.
2nd Merit List NU Admission Result 2021 Online Method
Generally, all the candidates know that they applied for admission through the online application process. For this reason, online will be the best way for them.
First of all, you have to visit the official web portal of National University Admission. For this, you have to visit on http://app1.nu.edu.bd/.
After that, open a internet browser from your phone and write http://app1.nu.edu.bd/ or https://www.nu.ac.bd/admissions/ in the address bar and press on "Enter" button from keyboard or tap on → this icon from smartphone.
Then, you will get the homepage of admission portal. After that, they need to click on "Applicant's Login" menu that is in red color.
Once click on "Applicant's Login", the login window will appear.
Now, write "Application Roll No." in the first box.
After that, input the "Pin Number" number and click on "Login" menu.
Finally, applicant's profile will visible there with applicants photo. That will show them the Honours Admission Result 2021 Online.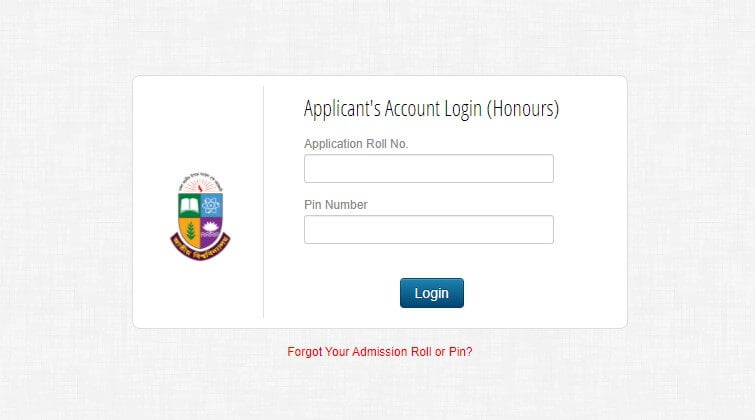 NU Honours 2nd Merit Result 2021 By Teletalk Mobile SMS
Teletalk is an important role for Admission, Exam result, Admission result, job application and more. Almost all the Government application received and operate by Teletalk. It will help NU Honours Admission Candidates while checking their results. To do this, here is the SMS Method.
Open Mobile SMS App
Tap on "Write New SMS" as similar as general message.
Now write nu<Space>athn<space>roll number
Finally, send the above messge on "16222"
Example: nu athn 6415145
If you want to get your result by SMS, so you have to keep 2.50+ Taka on your phone. Without sufficient balance, the message can't deliver. Teletalk only provides you Honours Admission Result 2021 for 2nd Merit Result through a reply SMS if you have sufficient balance.
Note: Candidates can use any Mobile Operator (Teltalk, Gp, Robi, Airtel, Banglalink, etc) to send the SMS. If anyone sends the SMS through a Teletalk SIM card, then it will provide the result faster than other mobile operators. It has been proved.
For Latest News Updates, Please Follow OgroNews.Com on Google News Channel
(The above story first appeared on OgroNews on 19 September 2021, at 06:43 PM BST (Bangladesh Standard time). For more news and updates on Education, Technology, Entertainment, Sports, Festivals, Celebrity News, Lifestyle, and Trending News, so bookmark our website OgroNews.com. Also, like our official Facebook Page, and Follow us on Twitter @ogronews21).